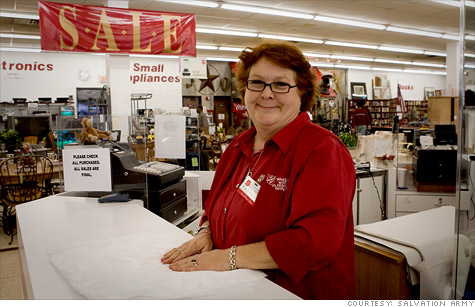 Are Salvation Army jobs "green?" According to a new government survey, they are.
NEW YORK (CNNMoney) -- The 3.1 million "green jobs" the government reported last week was a large number -- it's nearly five times the number of people that work making cars and trucks and over half the amount employed in the construction industry.
But to compare green jobs to another singular sector isn't really fair. The green jobs survey took into account a wide variety of jobs in over 300 different industries.
It included not only the traditional jobs people think of as green -- like making solar panels or energy efficient windows -- but also things like organic farmers and mill workers making recycled steel.
It also included things that immediately drew ridicule from critics, like the 160,896 people in "school or employee bus transportation" and the 106,865 working at "used merchandise stores" -- i.e. thrift shops.
"This is a comedy goldmine," said Heritage Foundation energy economist David Kreutzer. "To get green employment to sound like it's a big part of the economy they have to bring in all sorts of things that people wouldn't consider green jobs. If you look at the things they've been subsidizing, it doesn't add up to much."
The study, the first ever survey-based report and the most in-depth study so far from the government's Bureau of Labor Statistics, is bound to be cited by both political parties during the election.
During his 2008 campaign Obama promised to create 5 million green jobs.
The new BLS survey, which counted jobs in 2010, will likely be used as a baseline to measure progress toward that goal.
To achieve it, the Obama administration -- like administrations before it -- has been subsidizing all manner of green industries since taking office.
Each year the government spends billions supporting a wide variety of green energy programs -- in 2011 the total was $16 billion. In 2009 the stimulus effort allocated roughly $60 billion to subsidize them.
When narrowing the scope to only the green jobs the administration is most actively subsidizing, the number becomes substantially smaller. Only about 600,000 people worked in renewable energy and energy efficiency, according to a green jobs report by the Brookings Institution, but job growth in sectors like wind and solar energy is expanding quickly.
"We're seeing 8%, 9%, 10% growth rates," said Mark Muro, policy director at the Brookings Institution's Metropolitan Policy Program. The administration "made massive investments that will certainly pay returns over the next several years."
Others note the breadth of industries green jobs were found in, and that they were particularly strong in sectors hard-hit during the recession.
Manufacturing was the largest sector for green jobs, accounting for 461,847 positions, or 4% of the overall jobs in manufacturing. Construction provided 372,077 green jobs, which is nearly 7% of the jobs in construction overall.
"The fact that you have this counterbalance is very important," said Robert Pollin, an economics professor at University of Massachusetts Amherst who studies green jobs. "And it's not just a niche, it's spread across various sectors of the economy."
As for the school bus drivers and thrift store workers, it would be unfair to say they are not beneficial to the environment. It's certainly better to have kids on a bus than each getting a separate ride to school. Same for used clothes -- reusing something is usually easier on the planet than buying new.
And that's how BLS defined green jobs -- "producing goods or providing services that benefit the environment or conserve natural resources."
BLS actually has a second part of the survey coming out later this year looking at "jobs in which workers' duties involve making their establishment's production processes more environmentally friendly or use fewer natural resources."
That will surely boost the green jobs number. It will also likely provide more fodder for debate -- a debate BLS itself would not be dragged into.
"We provide the data," said BLS spokesman Rick Clayton. "Data users will provide their own analysis."