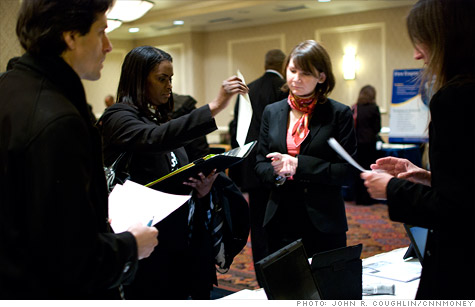 Job seekers at a recent jobs fair in New York City.
NEW YORK (CNNMoney) -- In another sign of improvement in the labor market, the number of people filing for unemployment benefits once again fell to a four-year low last week.
The Labor Department reported that 359,000 people filed for initial claims. That's down from the 364,000 who sought help the previous week, a reading that was revised higher.
The four-week moving average, seen by economists as a better measure of the health of the overall labor market, fell to 365,000 from 368,500, which also marked a four-year low.
There have been numerous signs of improvement in the labor market in recent months beyond the weekly jobless claims reports.
The Labor Department estimates a net gain of 245,000 jobs a month on average over the past three months, the best three-month increase in jobs in nearly five years, excluding the spike in temporary workers hired for the 2010 census. The unemployment rate also has declined steadily to 8.3% from 9% in the past five months.
Economists surveyed by CNNMoney are forecasting a gain of 200,000 jobs when the March jobs report is released April 6.

On Thursday, the Labor Department revised higher many readings from prior weeks. Without those revisions, last week's 359,000 claims would not have been a four year low. The revisions raised concerns with some economists.
Joseph LaVorgna, chief U.S. economist for Deutsche Bank said the upward revisions led his firm cut its March jobs forecast to a gain of 250,000 from its earlier estimate of a 300,000 increase. However, he said, even the revised numbers show steady improvement in claims since last September.
The Business Roundtable, a group made up of the CEO's of the nation's major companies, released its first quarter survey Wednesday. That showed 42% expect to add workers in the next six months, up from 35% that were looking to hire at the end of last year. The number expected to cut staff fell to 16% from 24%.
Alan Krueger, chair of the White House Council of Economic Advisers, told a meeting of economists in Washington this week that the job market is healing from the deep wounds inflicted by the financial crisis, even if it still has a ways to go.
But Federal Reserve Chairman Ben Bernanke cautioned the same group that the improvement in the labor market, while stronger than had been expected, hasn't been matched by growth in the overall economy.