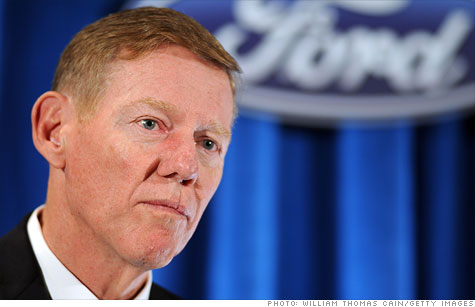 Ford CEO Alan Mulally got a $3 million pay raise last year to $29.5 million.
NEW YORK (CNNMoney) -- Ford Motor CEO Alan Mulally received a pay package worth $29.5 million last year, according to a company filing Friday.
Mulally's total compensation was up almost $3 million, or 11% from his 2010 package. While his base pay increased to $2 million last year from $1.4 million each of the previous two years, his cash bonus declined to $1.8 million from $3.2 million in 2010.
Most of his compensation came from stock and other deferred compensation. Ford (F, Fortune 500) shares are up 15.7% year to date.
A previous filing by Ford disclosed that Mulally received company stock worth $36.3 million after taxes in March. That stock was granted him as part of his 2009 pay package and gained in value by more than 500% since that time. That compensation was not included in the most recent filing.
Rival General Motors (GM, Fortune 500) has yet to file details of its executive pay. GM posted record profits in 2011, and reclaimed the title of world's largest automaker.
Mulally is widely credited with helping to turnaround Ford. The company posted its biggest net income since 1999 in 2011, and the company was able to reinstate dividend payments to shareholders after a five-year hiatus.
The automaker was widely seen as the weakest of the Big Three U.S. automakers when Mulally was hired away from Boeing (BA, Fortune 500) and named Ford CEO in September 2006.
But under his leadership it was the only major U.S. automaker that avoided a government bailout and a trip through bankruptcy court in 2009, and it has been steadily gaining U.S. market share in recent years.
But his large pay packages have sparked some criticism, with United Auto Workers union President Bob King calling his pay level "morally wrong."
Still there is generally greater concern among Ford investors about reports that Mulally, 66, may be nearing retirement, than shareholder outcry over his pay package.