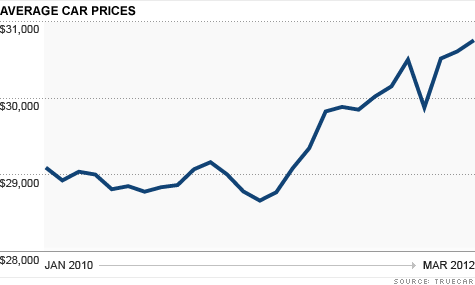 Average car prices hit a record high in March, according to TrueCar.
NEW YORK (CNNMoney) -- Cars are more expensive than ever, and experts say even higher prices are on the way.
The days of big cash-back offers and other incentives that automakers depended on to sell excess cars and trucks have gone the way of manual transmissions and roll-down windows.
"The industry has essentially cleansed itself of high incentives," said Jeff Schuster, senior vice president of auto research firm LMC Automotive.
The deep cuts in production capacity during the restructuring of recent years, coupled with the recent rebound in demand for new cars from consumers, means that shoppers can't find the deals they once did.
"You're going to see pricing going overall higher," said Jesse Toprak, analyst with sales and pricing tracker TrueCar. "The demand is higher and supply is more tightly controlled."
TrueCar estimates the price of a typical car or light truck reached a record high of $30,748 in March, up nearly $2,000, or 7%, from a year earlier.
Prices have been steadily rising over the last three years, since sales and prices both plunged during the darkest days of the recession as General Motors (GM, Fortune 500) and Chrysler Group tumbled into bankruptcy.
"You'll still see some summer sales, but we've been adding about $1,000 a year to prices over the last several years," said Toprak. "There's no reason to think that trend line is going to turn around, even if it slows down a little bit."
Jessica Caldwell, senior analyst with Edmunds.com, says that greater availability of low-interest rate credit and high prices for used cars also are helping to lift new car prices. The high used car prices not only limit alternatives for those who need to buy a car, it also provides greater value to those trading in an existing car when buying a new vehicle.
"There's no downward pressure on prices," she said.
In addition, the combination of higher gas prices and new federal mileage regulations on the horizon means that automakers are offering more expensive features to improve fuel efficiency.
The EPA estimates that new mileage rules will add about $1,000 to the price of a typical car between now and the 2016 model year, and an additional $1,946 per vehicle by 2025. The agency says that extra cost at purchase should be made up for by savings that come from better mileage.
The automakers say consumers are also demanding more features on the cars they're buying, even as they shift towards smaller, more fuel-efficient vehicles.
"They're going with feature-rich vehicles," said Erich Merkle, director of sales and analysis for Ford Motor (F, Fortune 500). "Even when they're downsizing, they want all the creature comforts they've become accustomed to."