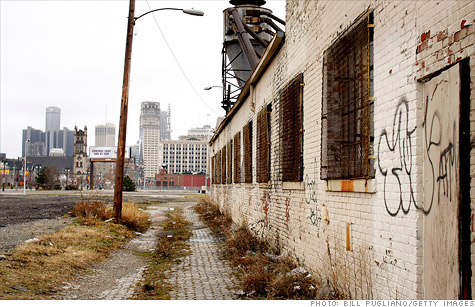 A declining tax base has left Detroit in a deep fiscal hole and at risk of a state takeover.
NEW YORK (CNNMoney) -- Detroit has pulled itself back off the ledge.
The city council narrowly approved a deal Wednesday night that grants the city the power to void contracts and slash costs amid looming financial insolvency.
The deal, which provides no state funding or loans, was backed by Mayor Dave Bing and Michigan Gov. Rick Snyder.
Snyder issued a statement shortly after the 5-4 vote commending the council for acting "responsibly," but said there is still work to be done.
"The magnitude of the city's financial challenges means that many difficult decisions lie ahead," Snyder said. "We must build on this spirit of cooperation and be willing to act in the city's long-term interests."
The city council vote avoids a more controversial step: Snyder was poised to invoke Michigan law and appoint an "emergency manager" to assume the powers of the mayor and council to run Detroit's day-to-day operations.
He had until Thursday to take such action.
The possibililty of a state takeover drew fierce opposition from unions -- in a city that remains a bastion of labor power.
The city council was under pressure from the public and unions to reject the deal with the state. At the same time, it would have lost its powers if Snyder went ahead and named an emergency manager.
Detroit still faces some tough fiscal decisions.
Years of decline in population and businesses and a shrinking of the tax base have pushed Detroit into a deep financial hole despite a recent resurgence in the U.S. auto industry.
Without more cost cutting, the city won't be able to pay its bills come June. An estimate in January, the most recently available, was that the city would be down to $20.9 million in the bank by the end of this week.
While Detroit's own finances continue to struggle, the U.S. automakers based in or near the city have enjoyed a financial resurgence.
General Motors (GM, Fortune 500) reported a record profit in 2011. And a pick-up in auto sales and hiring has led to a nearly two-point drop in Michigan's unemployment over the last 12 months, the biggest improvement of any state.
--CNN's Jordana Ossad contributed to this report.