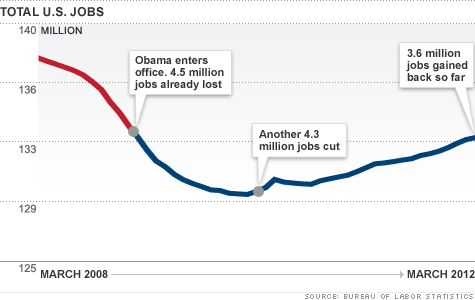 NEW YORK (CNNMoney) -- The countdown is on.
With just a few more positive job reports, President Obama could stand a chance at ending his first term as a job creator.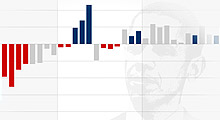 The U.S. lost 4.3 million jobs in President Obama's first 13 months in office. Track his progress since then.
The American economy only has to add another 740,000 jobs to get back to where it was in January 2009, when the president was sworn in.
At the rate companies are currently hiring, that could happen in about six months -- just in time for the election.
It's simple math: 4.32 million jobs were lost in the first 13 months of Obama's presidency.
Since he took office, 3.58 million have been added back. That means, he needs 740,000 more jobs before the end of the year to get back to square one.
Right now, that goal is still within reach, even in spite of slower hiring in March. U.S. employers added 120,000 jobs in the month.
Most presidents finish their terms with job gains. By the end of Ronald Reagan's first term, the economy had created an additional 5.3 million jobs. In Bill Clinton's first four years, 11.5 million jobs had been added.
George W. Bush is the only president to win re-election with job losses under his watch. The economy shed 13,000 jobs in his first four years, but just like in Obama's presidency, most of those job losses came in his first year in office.