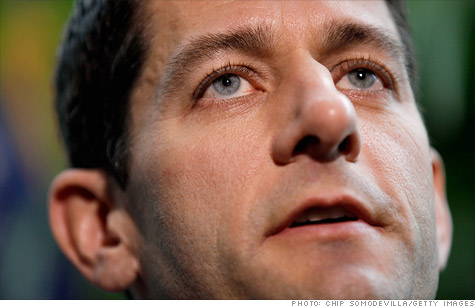 House Budget Committee Chairman Paul Ryan.
NEW YORK (CNNMoney) -- Paul Ryan, the Republican chairman of the House Budget Committee, says that since the Bush tax cuts are set to expire at the end of this year anyway, now would be a good time for Congress to pass comprehensive tax reform.
"We have a cliff coming at the end of the year," Ryan said, speaking in New York Tuesday at a forum sponsored by the Bush Institute, a think tank set up by former President George W. Bush.
"What we're saying is, this actually provides a great opportunity. The code is effectively blowing up so let's reform it," the Wisconsin representative added.
Tax reform would scrap the current, Byzantine code. In its place it would lower tax rates but eliminate a wide variety of tax breaks, deductions and loopholes. The idea has wide bipartisan support in theory. But the chance of getting Republicans and Democrats to agree on the necessary details of such complicated and potentially contentious legislation during an election year seems unlikely.
Ryan's comments came after a speech earlier Tuesday in which former President Bush said he wished his name hadn't been attached to the Bush tax cuts, and that they were less likely to raised if they were not named for him.
The Bush tax cuts had originally been set to expire at the end of 2010, but a lame duck session of Congress late that year agreed to a two-year extension, along with a partial payroll tax holiday and extending long-term jobless benefits.
Ryan's proposal to reform taxes is not new. It was a central part of the budget bill proposed last month by Ryan and endorsed by most House Republicans.
Ryan has proposed moving to just two two tax rates -- 10% for lower income taxpayers and 25% for most taxpayers -- both of which are significantly below current levels. He said the lost revenue would be made up through the elimination of various tax breaks and deductions, although he has not identified which ones. Ryan would also cut the top corporate tax rate to 25% and eliminate various business tax breaks.
Ryan said that if the Bush tax cuts do disappear at the end of this year, U.S. economic growth will slow down to 1% in 2013, as consumers and businesses cut back on their spending to pay higher taxes.
President Obama proposes making the Bush tax cuts permanent for individuals earning less than $200,000, or couples with less than $250,000 in annual income. But he says that the tax rate should revert back to the pre-Bush rates for upper income taxpayers. He also has proposed the so-called Buffett rule, which would require millionaires and billionaires like Warren Buffett to pay at least 30% of their income in taxes.
Obama also has proposed corporate tax reform, which would lower the top rate to 28% through the elimination of deductions and loopholes.
Obama spoke in favor of the Buffett rule, which has become a central focus of his re-election campaign, on a trip to Florida Tuesday. Last week he attacked Ryan's plan, calling it the Romney-Ryan plan referring to the likely Republican presidential nominee Mitt Romney, who has offered a similar plan with tax rates between 8% and 25%.