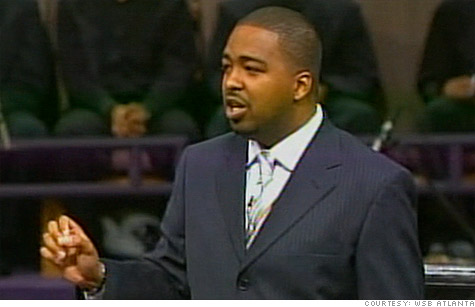 Ephren Taylor is facing SEC charges and a looming class action suit.
NEW YORK (CNNMoney) -- Federal officials announced Thursday that they had charged a man who billed himself as the youngest-ever black CEO of a publicly traded company with running a Ponzi scheme.
The Securities and Exchange Commission alleged that Ephren Taylor II -- a self-described "social capitalist," author and entrepreneur -- had defrauded investors in his firm of more than $11 million between 2008 and 2010.
Taylor's City Capital Corporation (CTCC) targeted investors from African-American church congregations, telling them their money would go to support charities and businesses in poor communities, the SEC said. In reality, Taylor used it to operate his scheme and finance a lavish lifestyle, the agency alleged.
Taylor was an aggressive self-promoter, using investor funds to embark on a speaking tour, publicize his three books and support his wife's singing career, the SEC said. In interviews with outlets like CNN, CNBC, Fox News and NPR, he offered business advice and boasted of earning his first million running a software company while still in high school.
"Ephren Taylor professed to be in the business of socially-conscious investing. Instead, he was in the business of promoting Ephren Taylor," David Woodcock, director of the SEC's Fort Worth regional office, said in a statement.
"He preyed upon investors' faith and their desire to help others, convincing them that they could earn healthy returns while also helping their communities."
The SEC also charged City Capital Corporation and its former chief operating officer, Wendy Connor, with fraud. The agency, which cannot bring criminal charges, is seeking civil penalties and the return of ill-gotten profits.
A lawyer for Connor did not immediately return a request for comment.
It was not clear whether Taylor had legal representation. His former spokeswoman said she no longer represented him, and his personal contact information was unavailable.
Cathy Lerman, a lawyer in Florida who is preparing a class action suit on behalf of Taylor's investors, said she has dealt with dozens of people who have been rocked by his scheme.
"People have lost their homes, people have become estranged from their families," she said. "He devastated a lot of people, and he targeted his own -- he targeted African-American Christians, and those people have suffered greatly from being affiliated with Ephren Taylor."