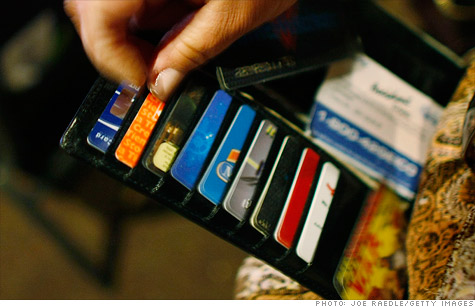 The Consumer Financial Protection Bureau is collecting comment to undo a credit card rule that was halted by a federal court last year.
WASHINGTON (CNNMoney) -- The Consumer Financial Protection Bureau is reversing a rule that would have capped credit card fees associated with opening a new credit card account, in response to a federal court ruling last year.
At issue is when a cap on credit card fees should kick in.
Congress passed credit card laws in 2009 that limited a number of fees, including fees charged during the first year the account is open. The law caps first year credit card fees at 25% of the account's credit limit.
For example, an account with a $1,000 credit limit would be limited to charging $250 in fees in the first year.
In 2011, the Fed clarified that the crack-down also applies to fees that customers pay when they're first opening an account, like sign-up fees. Credit card issuer First Premier Bank cried foul and sued.
A South Dakota federal court judge agreed with the bank last fall, ruling that the new laws don't kick in until after a customer has already opened an account. That allows card-issuers to charge high fees to open an account without worrying about hitting the cap.
The consumer bureau is collecting comment on a measure that would rewrite the credit card rule halted by a federal court last year. The bureau said it is reversing course to clarify the fee caps since the bureau's rule and the judge's order halting its implementation has created confusion.
The revised rule would reflect the judge's decision that the 25% cap on fees in the first year only kicks in after a credit card account is officially open.
In the call for comment, the bureau acknowledges that the new rule "may impose potential costs on consumers."
Washington financial policy analyst Brian Gardner warned in a note to the financial industry that the consumer bureau's reversal doesn't signal "a future softening by the CFPB towards credit card issuers," wrote Gardner of Keefe, Bruyette & Woods.