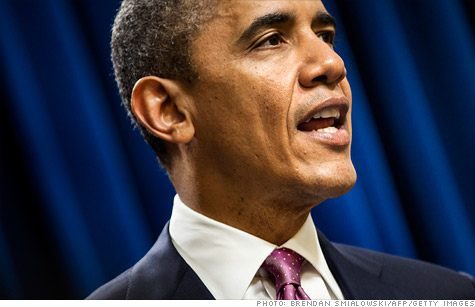 NEW YORK (CNNMoney) -- Move over Warren Buffett.
The White House said Friday that President Obama has a lower effective tax rate than his secretary.
"The president's secretary pays a slightly higher rate this year than the president on her substantially lower income," White House spokeswoman Amy Brundage told CNNMoney.
The president's secretary is Anita J. Breckenridge, and according to White House disclosure forms, the "personal aide to the president" earns $95,000 a year.
Brundage declined to say exactly what tax rate Breckenridge paid. Earlier Friday, the White House released Obama's 2011 tax returns, which showed an adjusted gross income of $789,674 for the first family, and an effective federal income tax rate of 20.5%.
Brundage suggested the president would be willing to pay more, saying his situation illustrates "exactly why we need to reform our tax code and ask the wealthiest to pay their fair share."
On Wednesday, Obama held an event at the White House where he -- surrounded by administrative assistants and their millionaire bosses -- called for the implementation of the so-called Buffett Rule.
The general principle behind the rule is that millionaires and billionaires like investor Warren Buffett shouldn't pay a lower percentage of their income in federal taxes than middle-class households, and specifically their secretaries.
Buffett first proposed the idea last August, and in January, Obama made it a centerpiece of his State of the Union address. Buffett's secretary, Debbie Bosanek, attended the speech as a guest of the White House.
That proposal is expected to come up for a vote in the Senate next week, but has no chance of being approved by the Republican-controlled House.
ABC News was first to report the president paid a lower rate than his secretary.