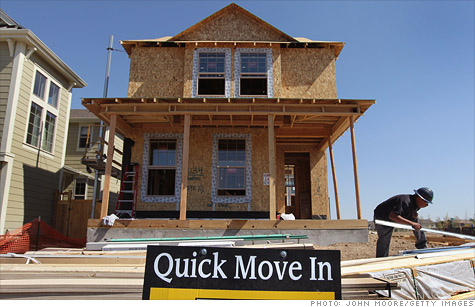 The recent rebound in home building is helping to lift retail sales in a number of sectors, including building supplies, home furnishings and appliances.
NEW YORK (CNNMoney) -- Consumers had their wallets out in March, as retail sales posted a solid gain, helped by a rebound in home building and car sales.
Overall retail sales jumped 0.8% in the month, down slightly from the 1% gain in February but much stronger than forecast by economists surveyed by Briefing.com, who had expected a gain of only 0.3%.
The biggest increase was a 3% rise at building and garden supply retailers, a sign of renewed activity in home building.
There have been numerous signs of improvement in the long-battered home building and real estate markets, as contractors filed for more building permits in February than at any time since October 2008. Their next stop was apparently lumber yards to buy supplies.
The unusually warm weather in much of the nation over the first three months of the year, coupled with record low mortgage rates and some improvement in jobs, are all helping to lift building activity and thus sales at building retailers such as Lowe's (LOW, Fortune 500) and Home Depot (HD, Fortune 500).
The recovery in home building can also help other retail sectors, including home furnishing stores, where sales rose 1.1%. Electronics and appliance stores saw spending climb 1%.
There was also strong spending at car dealers and auto parts retailers, which rose 0.9% after another strong month for new car sales, coupled with record high new car prices. Stripping out car sales, spending on other items was up 0.8%.
Higher gas prices helped boost spending at gas stations by 1.1%. Excluding spending on gas, sales gained 0.7%. in the month.
Spending at clothing stores increased 0.9%. General merchandise store sales gained 0.7%, as did spending at online retailers. The health and personal care sector was the only one to post a decline, as sales there slipped 0.2%.
There had been concerns that the steady rise in gas prices in the first three months of the year might choke off spending on other items, and possibly even cause the recovery to stall. But the latest report suggests that consumers are continuing to spend despite paying more at the pump.
Paul Dales, senior U.S. economist at Capital Economics, said the broad-based gains in spending are encouraging for the broader economic outlook.
"Households are starting to contribute more to the economic recovery just at a time when industrial activity appears to be easing," he wrote in a note to clients Monday.
But he cautioned that some of the gains in March could be due to temporary factors, such as the warm weather possibly spurring both building activity and clothing sales, and the introduction of Apple's (AAPL, Fortune 500) new iPad helping the demand for electronics.