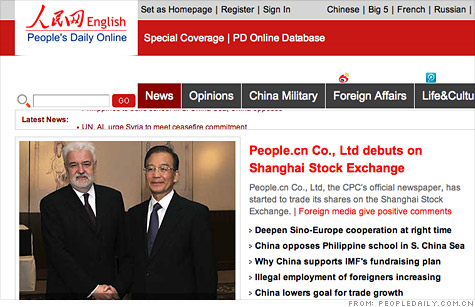 Shares of People.cn, soared 74% in their debut on the Shanghai Stock Exchange.
NEW YORK (CNNMoney) -- Propaganda doesn't pay? Actually it's pretty lucrative ... at least if you're a media outlet backed by the Chinese government .
People.cn, the online arm of People's Daily, the official newspaper of the Chinese Communist Party that is highly censored, went public on the Shanghai Stock Exchange (SHCOMP) on Friday. Shares surged 74% and the company is now worth 9.6 billion yuan, or $1.5 billion.
That's much higher than the New York Times (NYT). The publisher, widely regarded as one of the best newspapers in the U.S., is worth just $932 million.
People.cn also has a higher market value over than U.S. publishing companies McClatchy (MNI), E.W. Scripps (SSP), Journal Communications (JRN), Daily Journal (DJCO), A. H. Belo (AHC), Media General (MEG) and Lee Enterprises (LEE).
The president of People.cn , Ma Li, is proud of his company's entrance in the stock market, calling it "excellent," in a report published on, of course, People.cn.
The money raised in the stock market will be used to improve the Chinese website's mobile presence, according to the company's prospectus.