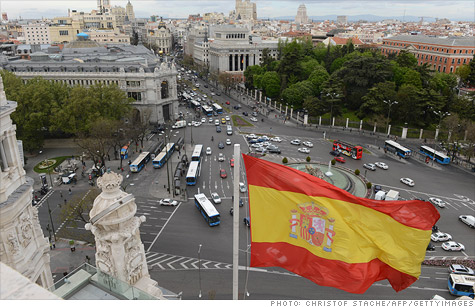 Spain becomes the 12th European nation to report at least two quarters of declining GDP, signifying a recession.
NEW YORK (CNNMoney) -- Spain has fallen into its second recession since 2009 as its economy shrank for the second consecutive quarter, according to a government report Monday.
There are now a dozen European nations that have had their economies shrink for two consecutive quarters, a condition that generally equates to a recession.
The Spanish economy, struggling with the aftermath of the bursting of a housing bubble, has been particularly hard hit by the economic turmoil rolling across Europe. On Friday, the government reported that Spain's unemployment rate hit record high of 24.4%.
Spain's economy shrank by 0.3% from the previous quarter in the first three months of 2012, the Instituto Nacional de Estadistica said. The decline matched the 0.3% quarter-over-quarter decline in the fourth quarter of 2012.
On an annual basis, GDP declined by 0.4%.
The latest report was a bit better than some forecasts. Last week, The Bank of Spain's estimated that GDP fell by 0.4% in the quarter.
The yield on Spain's 10-year bonds, a measure of investor confidence in the economy, was little changed following Monday's report.
However, Standard & Poor's downgraded the credit rating of 16 Spanish banks. The move followed a downgrade of Spanish sovereign debt by S&P last week.
The news of a Spanish recession followed Wednesday's reading that showed the United Kingdom in recession for the second time since 2008.
Four other eurozone countries that are dealing with sovereign debt issues -- Greece, Italy, Ireland and Portugal -- have previously reported at least two quarters of negative GDP, as have four other eurozone members -- Belgium, the Netherlands, Cyprus and Slovenia.
In addition, two other European Union members that like the United Kingdom use their own currencies -- Denmark and the Czech Republic -- are also in recession.
It is likely that both the eurozone and the broader European Union will be declared in recession when they issue GDP reports in coming weeks, The combined GDP for both fell by 0.3% in the fourth quarter.
There are worries that a European recession could drag down economic growth in the United States as well as in emerging markets that export to Europe, causing a so-called hard landing in countries such as China.