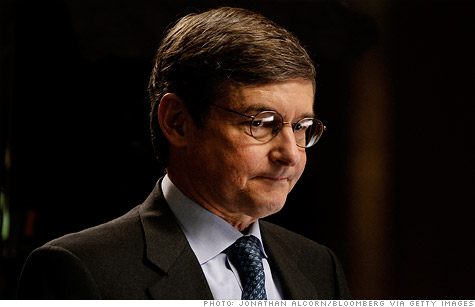 Joe Dear serves as chief investment officers of Calpers, the largest pension fund in the U.S.
LOS ANGELES (CNNMoney) -- As Occupy Wall Street rages, Occupy boardroom shows no signs of slowing down.
California Public Employees' Retirement System (Calpers) says it plans to ramp up its fight for corporate accountability and fair pay for executives this year, said Joe Dear, the pension fund's chief investment officer, during an interview with CNNMoney at the Milken Institute Global Conference in Los Angeles.
"Excessive CEO pay is not in the interest of the shareowners and not in the interest of companies," said Dear, who runs the largest pension fund in the United States with roughly $235 billion under management. (see correction below)
Dear said that Calpers has been active in pushing corporate boards to make changes for decades, but recently it's had more success teaming up with its pension peers and other investment funds, particularly in the area of CEO compensation.
Calpers was among the 55% of Citigroup's (C, Fortune 500) shareholders to vote against CEO Vikram Pandit's pay package of roughly $15 million. Dear expects to have a productive dialogue with Citigroup, but hasn't personally been part of conversations with the bank yet.
"Companies do respond," said Dear. "This is not the 1980s when they said 'who the heck are you and hung up the phone.' In many instances, there's resolution without a lot of visible controversy."
But Calpers and its pension peers, including California State Teachers' Retirement System (CalSTRS) and New York's pension funds, are also not shying away from controversy. Dear said his fund is gearing up for a fight with Hospitality Properties Trust (HPT), a real estate investment trust in the hotel industry.
Dear said the REIT has ignored proxy requests to let shareholders vote on each board director every year rather than voting for or against a select number of board members at the annual meetings. Hospitality Properties Trust's shareholder meeting is scheduled for May 9.
For the most part, corporations have been responsive to Calpers' push for such annual board elections and have implemented them without much pushback, said Dear.
Such direct voting on each director is important, he said, because board directors who think they might receive a negative vote will often step aside quietly. "Directors don't want the embarrassment of being voted off a board," Dear said.
Calpers may get more activist, but it's unlikely to become a hostile bidder for public companies, a role taken up by many Canadian pension funds. Dear said Calpers simply doesn't pay enough or have a large enough staff to conduct the requisite due diligence.
"In the U.S., we are unable to match pay levels of Canadian plans, so I think it's unlikely that a number of pension funds will take up direct investing," said Dear.
Correction: Calpers has $235 billion under management; an earlier version of this story incorrectly reporterd $235 million.