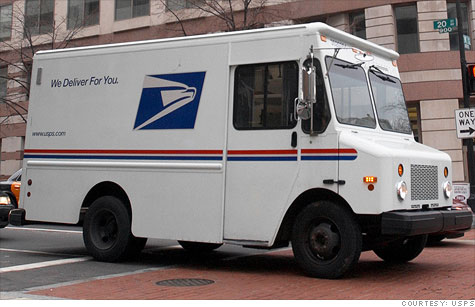 Postal Service chief Patrick Donahoe says closings won't happen right away starting May 15. But they are expected to happen this summer.
WASHINGTON (CNNMoney) -- What does May 15 mean for your local post office?
Last December, the Postal Service agreed to back off closing any more post offices and postal plants until May 15. The moratorium was aimed at giving Congress time to pass legislation to help the service get back on firmer financial footing. The service lost $5 billion in its most recent year and is $12 billion in debt to the Treasury Department.
The Senate passed a bill last week. But the House isn't in a rush to pass a bill anytime soon.
So that means that it's likely May 15 will come with no help from Congress. But it probably will be summertime before any facilities shut their doors.
Postmaster General Patrick Donahoe says don't panic.
"Our date of the 15th is not a date where we're going to make all kinds of changes," Donahoe said in an interview late last month on C-SPAN. "It's never been intended to be a shutdown date for anything."
Donahoe said the Postal Service plans to go "slowly" and "methodically," and follow the regulatory process, which will take months.
That doesn't give the Postal Service a lot of time this year. Donahoe has already said he won't close any postal facility from October through the end of December to accommodate campaign and election mail as well as the year-end holiday rush -- the service's busiest and most profitable season.
So closures can basically only happen this summer.
Donahoe's reassurances about no imminent closings didn't go far enough for the senators who passed a bill to extend a financial lifeline to the service and make it tougher to close plants and rural post offices.
On Wednesday, a group of 43 senators -- 39 Democrats and 4 Republicans -- asked Donahoe to extend the moratorium for all postal facilities until Congress passes a deal.
"We are deeply concerned that the closing of these postal facilities prior to postal reform legislation being enacted would be devastating to communities around the country," the 43 lawmakers wrote in a Wednesday letter. "We strongly urge you to extend the current moratorium."
Top House leaders made it clear last week they have no incentive to move quickly to pass their bill, which would encourage postal service closures. House leaders are not opposed to postal closures going forward this month.
Rep. Darrell Issa blasted the senators' plea.
"Rather than letting an objective and independent process continue on, senators would inject parochial politics into the Postmaster General's decision making," said Issa, the California Republican who authored the House bill to save the Postal Service. "The senators' request is inappropriate."
The Postal Service intends to close or consolidate parts of some 223 postal plants to shrink its network and save $2 billion. The closing and consolidation plans have yet to be reviewed by postal regulators
But even before there's any action against the plants, about 200 post offices whose closings have been cleared by regulators are likely to be the first facilities shut, according to postal expert Steven Hutkins.
The moratorium has prevented their closure so far, according to Hutkins, a New York University professor opposed to service cuts who writes about them on his blog Save the Post Office. He says the post offices are likely to be shut this summer.
But the Postal Service will likely be careful with all the closures, especially the plants, which the service says could mean job losses of around 35,000.
"My expectation is that they'll start gradually releasing lists of postal closures but not come out with a big scary 2,000-post-offices-are-closing type thing," Hutkins said.
In the meantime, the postmaster general is lowering expectations of massive closures kicking off later this month.
Donahoe told C-SPAN that "the word closure is a word we've never used."
However, a March news release talked about the "possible closure" of 3,700 post offices.
-- CNN's Ted Barrett contributed to this report.