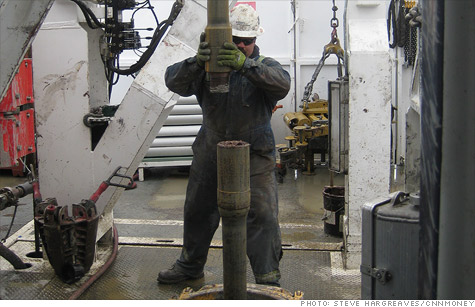 Oil rig workers make on average just under $100,000 a year, but salaries can vary widely depending on skills.
NEW YORK (CNNMoney) -- It may be dangerous, difficult work, but oil drillers are well compensated for the job: In 2011 the average salary for rig workers and other industry personnel was $99,175.
That number includes fat paychecks for the highly skilled, like $235,586 for a "drilling consultant" and $139,868 for a "reservoir engineer", according to Rigzone, an industry information provider that compiled the figures.
But even for someone with less than a year's experience the average wage was $66,923.
A roustabout, one of the lowest workers on a rig who performs general maintenance and physical labor and requires little prior training, made $34,680 -- the median wage for all American workers.
The high wages are being fueled by a surge in demand for drilling experts as the industry becomes increasingly technical and a drilling boom in the United States, Brazil and elsewhere. Plus, many drillers are retiring -- a phenomenon in the industry known as "the great crew change" that's only expected to accelerate over the next decade.
"They are desperate," said Michael Durney, an executive at Dice Holdings, Rigzone's parent company. "The industry is starting to look outside its core to fill these positions."
And where are they looking? Just about anywhere.
Durney said for those with few skills that want a shot on a rig, one strategy is to move to any number of states that are currently seeing a boom in oil and gas production and get a job in logistics -- driving a truck that brings supplies to the rig.
Truck driving can pay $20 an hour or more, and from there it's easy to meet people on the rigs.
With a little planning it's even easier to get a job on a rig right away. Several trade schools offer classes in oil field work, and the military offers training for those exiting the armed forces which could lead directly to work as a roustabout on a rig.
Once you're on a rig, the companies themselves generally provide in-depth training programs where roustabouts can move up fairy quickly. "Rotary drill operators" make $58,540, according to the Bureau of Labor Statistics, while a rig foreman makes $193,306, according to Rigzone.
For the college-bound, petroleum engineering, geology, or just plain engineering are good areas of study that can lead to lucrative rig work.
A "mud engineer" averages $108,032 a year, according to Rigzone, while a subsea engineer makes $133,453.
Demand for college educated rig workers is on the rise. At Houston's Rice University, job postings for the oil and gas industry were up 14% from the year before.
"This year we had a career fair, and we literally had to tell companies they couldn't attend," said Nicole Van Den Heuvel, director at the university's career center. "We didn't have enough room."
Van Den Heuvel offers familiar advice for college students seeking work in the oil industry: Apply for internships, utilize the university's career center, and network online at places like LinkedIn or in person at industry trade shows.
Even the non-science types can get in on the action.
"They still need people that can write in communications, in human resources," she said.
In fact, office work may be the way to go for some. Rig life is hard. Long hours in desolate locations combined with little to do in the off time make this an industry that many don't stay in for an entire career, said Durney.
The tough conditions are one reason why the internet job search site CareerCast ranked oil rig worker as one of the worst professions in 2012 -- just behind journalist.