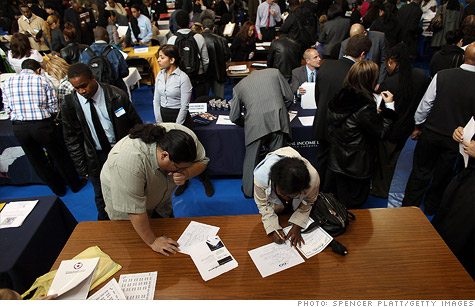 Americans filing for unemployment benefits fell by 1,000 last week.
NEW YORK (CNNMoney) -- Slightly fewer Americans filed for new unemployment benefits last week, a reassuring sign about the labor market in the closely watched economic reading.
The Labor Department reported Thursday that 367,000 filed new jobless claims in the week ended May 5, down from 368,000 the week before. The previous week reading was revised up by 3,000.
Economists surveyed by Briefing.com had forecast 365,000 would file for help.
There have been growing worries about a weakening of the recovery in the jobs market, especially after a disappointing April jobs report that showed employers adding far fewer jobs than expected.
Jobless claims, which had been falling steadily earlier this spring, also had climbed again in recent weeks before a drop two weeks ago.
"The fact that claims continue to drift back toward pre-Easter levels provides important evidence that the level of activity in the labor market did not stall in recent weeks," said Joseph LaVorgna, chief economist at Deutsche Bank, in a note Thursday.
Economist Michael Gapen of Barclays Capital said the latest reading shows that the improvement in the labor market seen earlier this year has not vanished, despite the temporary jump in new claims filings in April.
"The fact that initial claims held their decline last week is supportive of the idea that the recent softness in initial claims has reversed," Gapen said.
Initial claims can be a volatile reading, which is why economists prefer to look at the four-week average for claims. And that reading also improved slightly to 379,000 from 384,250.
There were also 61,000 fewer people receiving continuing unemployment benefits, as that reading for the week ended April 28 -- the most recent week available -- fell to 3.23 million from 3.29 million.
"Continuing claims never altered their downward trend, even while initial claims were moving higher in previous weeks," Gapen said. "Normally, initial and continuing claims will exhibit similar movements when underlying trends in the labor market are shifting."