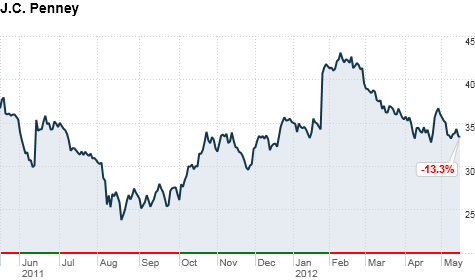 Click chart for more information on J.C. Penney's stock
NEW YORK (CNNMoney) -- J.C. Penney gave investors two reasons to ditch the stock: the retailer said Tuesday that it is suspending its dividend and that sales are dropping dramatically.
J.C. Penney's (JCP, Fortune 500) stock plunged more than 12% in early Wednesday trading.
The budget-conscious chain said same-store sales dropped roughly 19% in the first quarter of 2012.
J.C. Penney is now run by Apple's (AAPL, Fortune 500) former retail chief Ron Johnson. Before Tuesday's close, its stock was down 4.5% in 2012, after surging in the latter part of 2011.
The sales drop shows that J.C. Penney is not only failing to bring in new customers, it's also struggling to keep the old ones. Online sales were down 28%.
Meanwhile, the company said it would cancel its quarterly dividend of 20 cents a share to save $175 million per year.
J.C. Penney reported a net loss of $163 million, or 75 cents per share, on roughly $3.2 billion in sales in the first quarter of 2012. During the same period in 2011, the company reported a profit of 28 cents a share on $3.9 billion of sales.
Analysts had predicted a loss of 8 cents a share for the first quarter. Excluding certain costs related to restructuring, J.C. Penney said its loss was $55 million, or 25 cents a share, for the first quarter of 2011.
"While we have work to do to educate the customer on our pricing strategy and to drive more traffic to our stores, we are confident in our vision to become America's favorite store," Johnson said in a news release.
On the bright side, J.C. Penney said its expenses decreased by $121 million during the first quarter compared to the same period in 2011. The company said it plans to accelerate cost cutting in 2012.