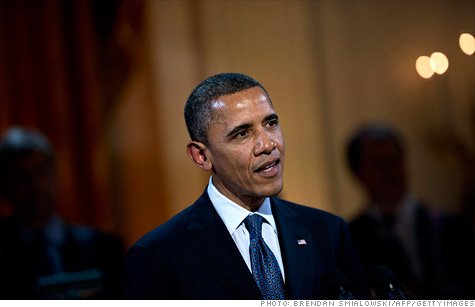 The White House released financial disclosure forms for the president on Tuesday.
NEW YORK (CNNMoney) -- The White House released documents Tuesday that show President Barack Obama and the first family hold assets valued at between $2.6 million and $8.3 million.
The disclosure forms, required by the Ethics in Government Act, show the president's largest asset, by far, is U.S. debt in the form of Treasury notes and bills. In total, the president has between $1.6 million and $6.3 million invested in Treasury debt.
The first family reported a few other large assets, including a JPMorgan Chase checking account that holds between $500,000 and $1 million and a set of 529 college savings plans.
The disclosure forms provide a range for the value of each asset, leading to widely divergent estimates of wealth.
Sources of income from the previous year are also listed, showing the president earned between $100,000 and $1 million in royalties from his book "Dreams from My Father." Another book, "The Audacity of Hope," brought in royalties of between $50,000 and $100,000.
The forms also list a mortgage ranging from $500,000 to $1,000,000 with a 5.625% interest rate on an Illinois residence.
The disclosure forms are intended to provide a certain level of transparency and to prevent conflicts of interest for high-level officials. The forms are released annually.
The White House said in a statement that the Office of Government Ethics had reviewed and certified the disclosure forms of both Obama and Vice President Joe Biden.
In April, the White House released the first family's tax return for 2011, which showed an adjusted gross income of $789,674 for 2011, down from $1,728,096 in the previous year.
The family income topped $5.5 million in 2009.
The president earns a salary of $400,000 for his day job. His total earnings are much higher because his books -- "Dreams From My Father," and "The Audacity of Hope" -- continue to attract buyers.
The Obamas reported paying $162,074 in federal taxes. They donated $172,130, or 22% of their income, to 39 different charities.