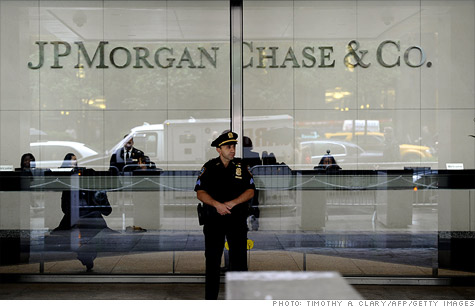 The FBI has opened an investigation into JPMorgan Chase.
NEW YORK (CNNMoney) -- The director of the Federal Bureau of Investigation said Wednesday that the agency has opened an investigation into JPMorgan Chase, the nation's largest bank.
"All I can say is that we have opened a preliminary investigation," Robert Mueller said in response to questions at an FBI oversight hearing on Capitol Hill.
Last week JPMorgan disclosed it had suffered a $2 billion trading loss on a series of complex bets on credit default swaps, a kind of derivative sometimes used to hedge against risk.
It remains unclear what potential crimes the FBI may be investigating, and Mueller declined to answer questions on that topic Wednesday, saying only that the agency had opened a preliminary investigation.
Media reports also indicate the Securities and Exchange Commission has launched an investigation of its own, a move that would be expected following a trading loss of the magnitude suffered by JPMorgan.
Erik Gordon, a law and business professor at the University of Michigan, said the opening of an FBI investigation escalates pressure on the bank.
"The FBI are not guys looking for violations of civil and and securities law," Gordon said. "They look for one thing, and one thing only: criminality."
James Cox, a professor at Duke Law School, said that it is unusual for the FBI to launch an investigation so soon after an incident in which no malfeasance is immediately apparent.
A spokesman for the bank did not return phone calls or an e-mail from CNNMoney requesting comment.
JPMorgan (JPM, Fortune 500) shares dropped 2% in trading on Wednesday, and have declined more than 12% over the previous five trading sessions.
The bank's chief executive, Jamie Dimon, has repeatedly apologized in recent days for the bank's actions, which he called "stupid."
"This should never have happened. I can't justify it. Unfortunately these mistakes were self inflicted," Dimon told shareholders at the bank's annual meeting on Tuesday.
JPMorgan has formed its own committee to investigate the trades, and on Monday it announced the retirement of Ina Drew, the firm's chief investment officer.
A statement issued by the company said Drew made the decision to retire, a move that was widely expected after the company disclosed the unit she managed had suffered a major loss.
Net losses from the trades, after factoring in other securities gains, are expected to exceed $800 million by the end of the second quarter. And losses could increase depending on market conditions and the bank's actions moving forward.