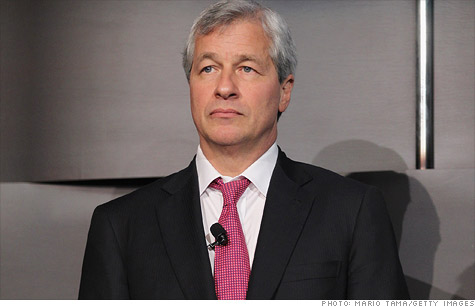 JPMorgan Chase chief Jamie Dimon has been invited to testify at a Senate panel about the $2 billion loss.
WASHINGTON (CNNMoney) -- JPMorgan head Jamie Dimon will appear before a Senate committee to testify about the bank's recent $2 billion trading loss, which has spurred renewed debate about financial reform since being revealed last week.
"As always, we will continue to be open and transparent with our regulators and Congress," the bank said in a statement Thursday.
Last week, JPMorgan disclosed it had suffered a massive loss on a series of complex bets on credit default swaps, a kind of derivative sometimes used to hedge against risk.
Since then, the Federal Bureau of Investigation and the Securities and Exchange Commission have opened preliminary investigations into the matter.
"Our due diligence has made it clear that the Banking Committee should hear directly from JPMorgan Chase (JPM, Fortune 500)'s CEO Jamie Dimon," said Sen. Tim Johnson, a South Dakota Democrat who runs the panel.
The Senate Banking Committee on Monday announced hearings to look into the trading losses from a regulatory angle. At the time, lawmakers said they planned to question regulators, not JPMorgan officials.
But on Thursday, Johnson announced he intended to invite Dimon to speak some time after the two hearings with regulators, which are scheduled for May 22 and June 6. A Banking Committee spokesman said the hearing at which Dimon will testify has not yet been scheduled.
"I encourage all of my colleagues on the Banking Committee to participate in these three critically important and timely hearings, so we can all better understand the facts," Johnson said.
Sen. Bob Corker, a Tennessee Republican, was the first to call for a hearing last week.
House Financial Services Committee and House Oversight Committee staff members said they had no plans to hold hearings yet.
At a hearing on Wednesday, Rep. Spencer Bachus, an Alabama Republican who runs the House Financial Services committee, said he had no intention of calling a hearing to look into JPMorgan's losses until more details are available.
CNNMoney's James O'Toole contributed reporting from New York.