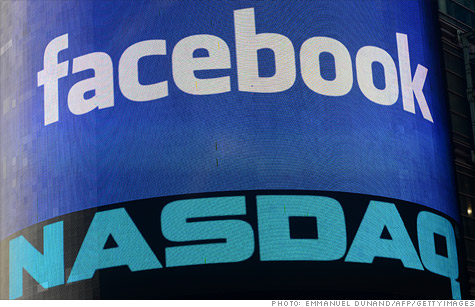 In addition to mass confusion and frustration, a trading glitch at the Nasdaq during Faceboook's debut last Friday is taking a toll on brokage firms and their investor clients.
NEW YORK (CNNMoney) -- Carole Parker tried to buy 400 shares of Facebook last week through her Fidelity account, ended up with 800, and is now waiting to find out who'll make good on her $3,400 loss.
As Nasdaq was preparing to open Facebook (FB) to the public market last Friday, Parker was finding out she hadn't nabbed any shares through an order she'd placed three days earlier.
Instead of giving up, the 53-year old environmental policy consultant from Piedmont, Calif., decided to try snagging shares on the open market.
About 15 minutes before Facebook made its highly anticipated debut, she managed to place two 400-share orders -- one with a limit of $41 and other with a limit of $40.04 -- though she quickly canceled the higher priced order.
But Friday afternoon, when she checked in on her Fidelity account, she hadn't received any word on where her orders stood. Instead, Parker saw a notice that alerted clients about a market-wide issue that was causing delays in execution for Facebook orders.
Confirmations are typically processed within milliseconds after an order has been executed, according to experts.
Parker immediately phoned a Fidelity representative, who assured her he would find out what was going on.
Early Saturday, Parker received duplicate email messages confirming that she had successfully purchased 400 Facebook shares at $39.56 each. But when Parker, who has been investing through Fidelity for over 20 years and has previously dipped her toes into day trading, checked her account Monday morning, she saw something entirely different.
In addition to the 400 shares at $39.56 each, she saw she owned another 400 shares at $39 each.
Furious, Parker wrote to Fidelity's customer service department, outlining her orders and transactions, and filed a dispute for both sets of purchases, claiming that while she is "happy to abide by the risks involved in IPO trading, [she is] not happy to trade in the dark with no timely information about execution or confirmation orders."
It wasn't until 2 a.m. Tuesday morning -- well after she filed her dispute -- that Fidelity sent her yet another set of duplicate confirmations for the second order of 400 shares that she had canceled before Facebook even started trading.
Late Tuesday afternoon, Parker said she received a call from a Fidelity representative, who told her she should sell the 400 shares that she didn't intend to buy, despite the losses she would have to bear given the decline in Facebook's stock, to "help her case."
Parker bit the bullet and sold her 400 unwanted shares just two minutes before Tuesday's closing bell, taking a 20% loss of about $3,400 due to the stock's decline.
"Now I'm just waiting for Fidelity to see if they'll recoup my losses," said Parker, who's still deciding what to do with the 400 Facebook shares she still owns.
Parker is far from alone. Numerous investors are the unwitting victims of a domino effect that started with a trading glitch at the Nasdaq. Though details were scarce last Friday, Nasdaq (NDAQ) has since said that order confirmations hadn't been sent to market makers, the firms that enter and execute orders on behalf of brokerage firms like Fidelity, until almost two hours after they were being executed.
In addition to mass confusion and frustration, Nasdaq's delay slowed the whole pipeline down.
Adding to the troubles, orders, changes and cancellations that were made during the 20 minutes leading up to the Facebook's first trade -- the timeframe during which Parker placed and tried to cancel her orders -- were particularly problematic. Because of the technical glitch, Nasdaq said those orders either didn't go through, or were filled at an inferior price later in the day.
Fidelity told CNNMoney that as of Wednesday, "all Facebook stock trades in clients' accounts from May 18 have been confirmed."
The brokerage added that on behalf of customers, Fidelity's senior management has been working with the regulators, market makers and the Nasdaq to represent all customers trading issues from May 18, and will continue to do so until "we are confident that NASDAQ has done everything it can to mitigate the impact to our customers."
Charles Schwab (SCHW, Fortune 500) also said that it has worked through "most client issues at this point," but is working to resolve remaining problems as quickly as possible.
Schwab client Barry Graubart, a 47-year-old marketing executive from Irvington, N.Y., placed an order to buy Facebook with a limit price of $41 per share shortly after shares began trading last Friday.
Though Facebook's stock was trading below that price for much of Friday, Graubart received a notice from Schwab at the end of the day that it was unable to fulfill his order, and it had expired.
"In hindsight, I guess I was one of the lucky ones as my limit order was never placed," said Graubart, who has been trading stocks for over 15 years. "At this point, I think it's probably a buy in the $24 to $26 range."
Schwab declined to comment on an individual client's experience.
TD Ameritrade (AMTD) said Nasdaq's delays affected a "small percentage" of its clients, but that the firm worked directly with clients to make sure that all the issues were resolved by the end of the day last Friday.
ING (ING)-owned Sharebuilder, which said it received a record amount of Facebook orders last Friday, said some of its clients had been affected, but all orders have now been executed and clients have received confirmation.
Sharebuilder added that it will advocate for trade adjustments from Nasdaq for any some impacted clients.
E*Trade (ETFC), another brokerage firm that was also one of the 33 underwriters in Facebook's IPO, declined to comment.