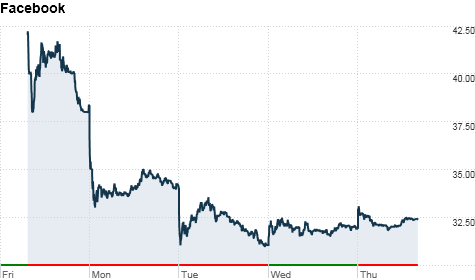 Click on chart to track Facebook
NEW YORK (CNNMoney) -- Facebook's stock made modest gains on Thursday, but it's still down at least 15% from the price of its initial public offering.
Facebook (FB) closed at $33.03 on Thursday, up 3.22% from Wednesday. Despite posting two straight days of gains, it's still far from $38 -- the price of its Friday IPO. The stock closed its first day at $38.23.
This was one of the most highly anticipated IPOs in recent history -- setting a record for trading volume -- but it was also one of the most disappointing. It has quickly become clear to investors that the underwriters -- a consortium of 33 led by Morgan Stanley (MS, Fortune 500) -- were too ambitious with the pricing.
The social media site is also mired in scandal from allegations that Morgan Stanley shared privileged information with certain institutional investors.
The allegations prompted a class-action lawsuit from three investors, filed in the U.S. District Court for the Southern District of New York in Manhattan on Wednesday.
The suit targets Morgan Stanley as well as Facebook, its CEO and co-founder Mark Zuckerberg, and other underwriters, including JPMorgan Chase (JPM, Fortune 500), Goldman Sachs (GS, Fortune 500), Barclays Capital and Merrill Lynch, a unit of Bank of America (BAC, Fortune 500).
A Facebook spokesman told CNN the suit was "without merit." Spokespersons for Morgan Stanley, Goldman Sachs and Barclays declined comment, and the other firms were not available.
The Facebook IPO is also under investigation by the Financial Industry Regulatory Authority, the state of Massachusetts and Congress.
In addition to its legal problems, there are also technical issues being looked at. Nasdaq delayed Facebook's debut by about half an hour, and many investors complained that their orders were not processed correctly.
"Although I put in an order at 8 a.m. [Friday], I did not get confirmation until Monday and at a price much higher than the opening bell," wrote one investor to CNNMoney, addressing a problem that was echoed by many others.
Analysts continue to believe the company has promise, considering that it has more than 900 million users, but they are cautious about the company's valuation, particularly with regards to advertising revenue and its ability to compete with Google (GOOG, Fortune 500).
These fundamentals -- revenue and competitiveness -- are core to Facebook's potential success on the stock market, according to Tim Jenkinson, a finance professor and IPO expert at the Said Business School at the University of Oxford in England.
He said the ephemeral troubles with its IPO could soon be forgotten if the company proves to be a success.
"I think, over time, the IPO pales into insignificance," said Jenkinson. "What ultimately matters is that the cash flow takes over from the hype and the story of the company. Over time, the IPO is just an event in the history of the firm."