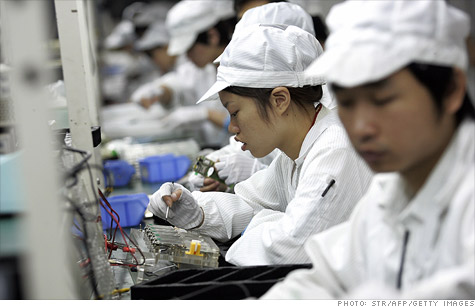 China's manufacturing sector continued to contract in May, according to HSBC's Flash Purchasing Managers' Index.
NEW YORK (CNNMoney) -- China's manufacturing sector continued to shrink in May, according to preliminary data released Thursday.
HSBC's Flash Purchasing Managers' Index fell to 48.7 in May from 49.3 the previous month. Any reading below 50 indicates the manufacturing sector has been shrinking.
While the news comes as yet another sign of weakness for China, the outlook for the world's second largest economy is still far from clear.
Mark Williams, chief Asia economist for Capital Economics, said the latest PMI report seems to indicate a slowdown in China's gross domestic product, the broadest measure of the economy. He said it also runs counter to other reports showing that income is growing for urban households and migrant workers.
"This weak PMI reading, and the general climate of economic uncertainty, suggests that a pickup in consumer spending growth is unlikely to lift the economy out of its current malaise," said Williams, in a research note.
But he believes the economy could gain steam going forward, with a boost from the government.
"We are however optimistic that recent policy moves, from monetary easing to the speeding up of approvals for infrastructure projects, will start to revive the economy in the next few months," he said.
Manufacturing accounts for more than a third of the Chinese economy, so the PMI is one of the country's most closely watched indicators. That said, the data vary greatly depending on the source.
According to HSBC for example, China's manufacturers have been weakening for 11 months straight. That stands in stark contrast to the Chinese' government's official survey, which includes large state-owned factories and shows the sector has been expanding for at least five months in a row.
China is in the midst of a transition phase, with the government trying to promote more domestic consumption. Meanwhile, exports to Europe -- China's largest foreign market -- have been hurting as the region has teetered on the brink of recession.
-- CNNMoney staff writer Aaron Smith contributed to this story.