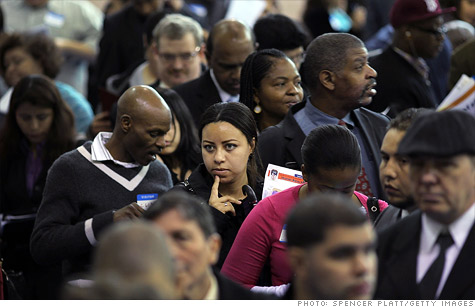 People wait in line at a job fair in Queens, New York.
NEW YORK (CNNMoney) -- Claims for unemployment benefits have been chopping around the same level for about a month, signaling companies probably increased their hiring only slightly in May.
The number of Americans filing for first-time unemployment benefits fell slightly last week, when about 370,000 people filed for their first week of jobless claims, the Labor Department reported Thursday.
While the data showed that number marked a 2,000 decline, the improvement was entirely cancelled out as the prior week's figure was revised higher by the same amount.
All in all, jobless claims have been bouncing around 370,000 for four weeks. Claims at that level point to job growth, but not at a pace much faster than in April.
The monthly jobs report, released next week, is expected to show companies added 150,000 jobs in May, according to estimates from several Wall Street economists. That's only a slight pickup from 115,000 jobs added in April. They're expecting the unemployment rate held steady at 8.1%.
"The fact that claims are holding in near 370,000 gives us modest confidence that the labor market is not experiencing a slow down," economists at Deutsche Bank said in a note to clients.
Because initial claims are a volatile number from week to week, economists often prefer to look at an average over a four-week period. That number has fallen for three straight weeks.
Meanwhile, the number of people receiving continuing unemployment benefits fell to 3.26 million for the week ended May 19. That was down 29.000 from a week earlier.