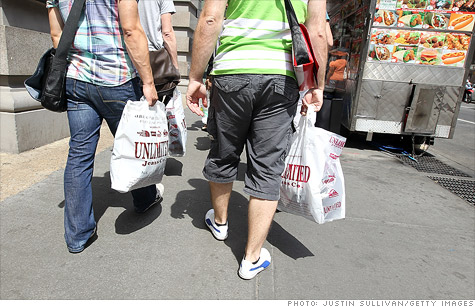 Consumer confidence fell to a five-month low in May.
NEW YORK (CNNMoney) -- Consumer confidence fell to a five-month low in May, according to a closely watched survey that showed Americans less optimistic about current labor market and business conditions, as well as the short-term outlook.
The survey released Tuesday by The Conference Board, a business research firm, showed an overall index reading of 64.9, down from 68.7 in April. Economists surveyed by Briefing.com had expected confidence to tick up to 69.4 in the latest survey.
Only 13.6% of those surveyed said business conditions are good at the current time, and only 7.9% believe that jobs are plentiful. Both readings were down from surveys in the previous two months.
When asked about what they expected for six months in the future, only 16.6% said they thought business conditions would be better, while only 15.8% said they expected there to be more jobs. Both those readings were the lowest results since late last year.
There was one slight sign of improvement: 15.2% of those surveyed by the Conference Board said they thought their own income would be better in six months than it is today, up from 13.9% in April. More of those surveyed are planning to buy cars and major appliances of one sort of another sometime in the next six months.
Consumer spending is a major driver of the nation's economy, accounting for more than two-thirds of economic activity. Confidence about current conditions and the future can be an important driver of the nation's recovery.
"The softening in [consumer confidence] suggests that the pace of economic growth in the months ahead may moderate," said Lynn Franco, the director of economic indicators at The Conference Board.
The report came as Americans have seen U.S. stock markets fall sharply on worries about the European sovereign debt problems. The S&P 500 has fallen nearly 6% over the first four weeks of trading in May.
Stock prices are one of the highest profile barometers that consumers use to judge the nation's economic health. According to CNNMoney's Fear & Greed Index, investor sentiment has been at an "extreme fear" level for the past two weeks.
"I think the biggest negative [for confidence] is what's been happening with stock markets and Europe over the last month," said Paul Ashworth, chief U.S. economist for Capital Economics. "That appears to have been more important than the decline in gas prices."
The report also came ahead of Friday's May jobs report, which is expected to show stronger job gains than reported in the previous two months' initial readings. Economists surveyed by CNNMoney forecast that employers added 150,000 jobs in May, up from 119,000 added to payrolls in April. The unemployment rate is forecast to remain at 8.1%.
Ashworth said a strong jobs report could wipe away most of the concern among economists and investors reflected in the weak consumer confidence reading. But Ashworth said that the increase in those who believe that jobs are tough to find could be an indication that the unemployment rate is about to go up rather than drop; the jobless rate has fallen in seven of the last eight months.