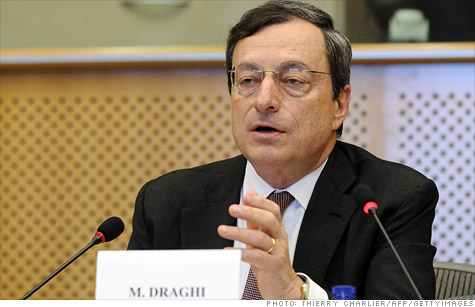 ECB president Mario Draghi called on European Union leaders to clarify their vision for the future of the euro currency.
NEW YORK (CNNMoney) -- The head of the European Central Bank said Thursday that the configuration of Europe's common currency will become "unsustainable" if policymakers do not take action.
ECB President Mario Draghi told the European Parliament that European Union leaders need to "clarify the vision" for the future of the troubled euro currency union.
Draghi stressed that the ECB, which is tasked with maintaining price stability, cannot make up for a lack of decisive action by government policymakers.
"Can the ECB fill the vacuum left by the lack of euro area governance?" he asked. "The answer is no."
The crisis of the last few years has shattered assumptions about the sustainability of bank capital and government debt, said Draghi. Now, he said the same thing is happening with the underlying structure of the euro currency.
"That configuration we had for 10 years, which was basically considered sustainable -- I should add in perhaps a myopic way -- is being shown now to be unsustainable unless further steps are undertaken," said Draghi.
The best way to resolve the crisis is for eurozone policymakers is to present a clear path forward and eliminate uncertainty in the financial markets, according to Draghi.
"Dispel this fog," he said. "The headwinds will stay strong, but at least you will see the horizon."
Draghi supported the idea of forming a banking union in Europe, which the European Commission proposed earlier this week. EU heads of state will discuss the banking proposal and other economic reforms at a summit next month.
The banking union would sit on three pillars, including a European-wide deposit guarantee mechanism, a resolution fund and centralized banking supervision, said Draghi.
In response to a question about what role non-euro area governments would play in the banking union, Draghi said "these are problems of the monetary union -- of the euro -- not problems of the EU."
The central bank chief criticized the way euro area officials have responded to problems in the banking sector.
In particular, he said Spanish authorities underestimated the needs of Bankia, one of the nation's largest banks, as it struggles with losses tied to the collapse of the housing market.
"There is a first assessment, then a second, a third, a fourth," Draghi said. "This is the worst possible way of doing things. Everyone ends up doing the right thing, but at the highest cost."
However, Draghi said the ECB will continue to support banks that are solvent. For example, he said a number of Greek banks, which had been temporarily blocked from ECB funding, have been "readmitted."