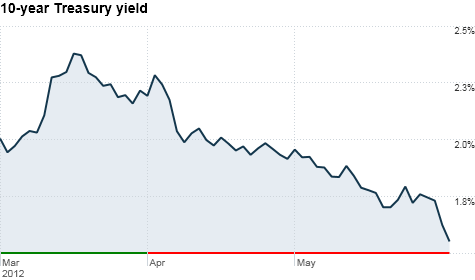 Click chart for more bonds and rates
NEW YORK (CNNMoney) -- Investors continued to seek safety in U.S. Treasuries Thursday, further pushing the yield on 10-year notes to a fresh record low.
The yield dropped to 1.58% Thursday, down from from Wednesday's record low close of 1.62%. Investors have been flocking to bonds in both the U.S. and overseas as Europe's debt crisis and a slowing U.S. economy has investors on edge.
Disappointing reports on the U.S. labor market and ongoing worries about Europe prompted Thursday's flight to safety.
Initial jobless claims rose more than expected in the latest week, while a report on private sector hiring from payroll services firm ADP showed fewer-than-expected jobs were added in May. Also on Thursday the Commerce Department revised the U.S. gross domestic product figure for the first quarter to 1.9% from 2.2%.
The weak domestic economic news, coupled with mounting worries over problems in Spain's banking sector, led to further toward momentum in Treasury yields. Investors flock toward the security of government-backed Treasuries in times of uncertainty. The demand pushes bond prices up, forcing yields to fall.
"In addition to the fear that's still driving worries over Europe, the less-than-spectacular U.S. economic data today makes people more worried about the employment situation report coming out tomorrow," said David Coard, head of fixed income trading at the Williams Capital Group. "Couple seeing those weak numbers with the flight to quality bid being generated by Europe and you see how the markets have gone crazy."
Positive news out of Europe or strong economic data tomorrow could stop yields from slipping further, Coard said.
"The bond market players and investors in general would need to see more that things are fine to be convinced," he said. "If we get news that makes people more comfortable, people will start taking more risks and treasuries will fade."
That may come Friday, when the U.S. Labor Department releases its monthly jobs figures for May.
Analysts surveyed by CNNMoney expect that the U.S. economy added 150,000 jobs in May, including 12,000 government cuts. The unemployment rate is expected to stay at 8.1%.