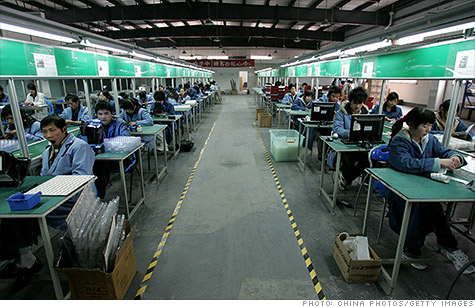 China's manufacturing sector slowed in May, with the government's index of purchasing managers' sentiment falling to the lowest level in 5 months.
NEW YORK (CNNMoney) -- China's closely watched manufacturing sector took a hit in May, as two reports issued Friday indicated the country's factories continue to struggle amid global economic woes.
The weak manufacturing reports lead industry analysts to believe the government will step in to boost infrastructure investment and cut banking rates.
"May's weaker growth data reinforces the case for more decisive easing actions," said Sun Junwei, China economist with HSBC." Beijing policy makers have proved their ability to reflate when necessary. Fears about a sharp growth slowdown are overplayed."
The Beijing government's National Bureau of Statistics said index of purchasing managers' sentiment dropped to 50.4 in May. That was down from 53.3 in April and the index's lowest level since December.
Any reading above 50 indicates expansion in the sector, while readings below 50 indicate contraction. The index was as low as 49 in November.
In a separate report, a purchasing managers' index compiled for banking company HSBC indicated further contraction in Chinese manufacturing. The index fell to 48.4 in May from 49.3 in April.
It was the seventh straight month that the HSBC index has indicated declining manufacturing activity in China.
Exports to Europe -- China's largest foreign market -- have taken a hit in the past year as the debt-ridden region teeters on the brink of recession.
The cost to manufacture Chinese goods continued to fall fast, as demand weakened and commodities prices fell for the first time since January.
Employment in Chinese manufacturing fell at the fastest rate in more than three years, according to HSBC.