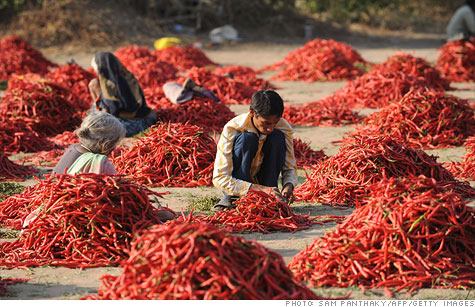 Indian workers prepare red chillies at Sertha village. The country's agricultural sector slowed in the first quarter.
NEW YORK (CNNMoney) -- India's economic growth slowed sharply in the first three months of 2012, due primarily to weakness in its manufacturing and agricultural sectors.
The Indian economy grew at a 5.3% annual rate in the first three months of the year, the Ministry of Statistics and Program Implementation said Thursday. The growth was a significant slowdown from the 6.1% rate in the final three months of 2011.
Finance Minister Shri Pranab Mukherjee called the figures "disappointing," but also said they "have to been seen in the light of overall global developments."
India is the world's second most populous nation after China, and the 11th largest economy, falling just behind Canada in output. An emerging economy, its growth is often choppy, but far faster than that of western countries.
In the first quarter, the country's manufacturing sector contracted and its agricultural sector slowed substantially. Spending by both consumers and the government decelerated slightly.
Mukherjee also blamed the recent slowdown partly on tighter monetary policy. The Reserve Bank of India, the country's equivalent of the Federal Reserve, has held interest rates high for three years to battle rapid inflation in the country.
Last month, it acted to lower that rate slightly to try to stimulate economic growth. Weaker economic growth in the first quarter is likely to put more pressure on the central bank to lower rates further.