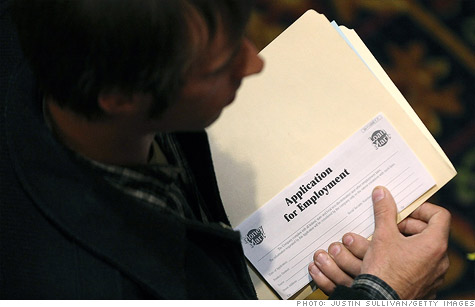 NEW YORK (CNNMoney) -- The job market looked pretty bleak in May, according to several reports released Thursday.
While one report showed hiring was weaker than expected, another showed planned layoffs were at an 8-month high. Separately, the government said claims for unemployment benefits inched higher last week.
All are weak signs ahead of the highly anticipated monthly jobs report released Friday.
"I'm not looking forward to tomorrow," said Jennifer Lee, senior economist with BMO Capital Markets. "A lot of employers are holding back any major hiring plans until things become more clear in Europe and in the U.S."
Businesses added 133,000 jobs in May, according to a report issued by payroll-processing company ADP. While that marked more hiring than in April -- when the report said employers added 113,000 jobs -- it was also significantly below forecasts.
Hiring at that level also pales in comparison to robust job gains seen earlier this year. While warm winter weather could partially explain why hiring was stronger back then, it doesn't entirely explain why job growth has recently stalled.
"The labor market has slowed in recent months, in a way that goes beyond simple payback for unusually mild winter weather," Diane Swonk, chief economist at Mesirow Financial, wrote in a note to clients. "Moreover, the risk is high that the labor market will remain weak over the summer months as uncertainty over Europe and our own 'fiscal cliff' build."
The fiscal cliff refers to the end of the year when the Bush tax cuts, payroll tax cut and extended unemployment benefits are all set to expire, at the same time that the government slashes more spending. Those measures could take more than $500 billion out of the economy and possibly cause a recession, the Congressional Budget Office has said.
"With so much uncertainty, why would employers embark on a major hiring spree? It wouldn't make sense for any company to do that," Lee said.
A separate report released Thursday showed employers announced 62,000 job cuts in May, the most since last September. That report, compiled by outplacement firm Challenger, Gray and Christmas, showed a large increase in planned cuts at computer companies, likely due to Hewlett-Packard announcing it will slash 27,000 jobs.
The Challenger report also includes government jobs, whereas the ADP report looks at just the private sector.
Adding to the discouraging news, the Labor Department reported that 383,000 Americans filed first-time claims for unemployment benefits last week.
Economists were anticipating claims would fall to 368,000, but instead they were hit with a double whammy of weak data. In addition to last week's number being worse than expected, the previous week's figure was also revised higher, showing that claims have been rising for four straight weeks.
Not surprisingly, the government's key jobs report due out Friday is expected to show only weak hiring in May. Economists surveyed by CNNMoney predict the economy added 150,000 jobs last month and the unemployment rate held steady at 8.1%.