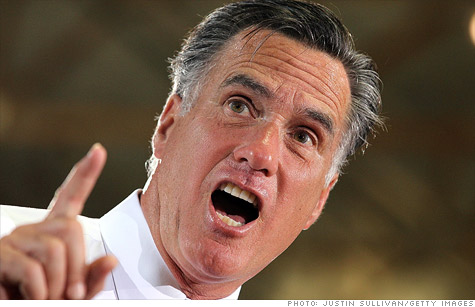 Mitt Romney's financial disclosure report was released Friday.
NEW YORK (CNNMoney) -- Mitt Romney is worth between $84 million and $256 million, according to campaign disclosure forms released Friday by the Federal Election Commission.
That's actually down a little from last year, when the forms pegged Romney's net worth at between $85 and $264 million.
The range is so wide because, while required to report all assets, candidates characterize those investments and holdings in very broad terms. For example, Romney has a few assets valued at between $1 million and $5 million.
Law firm Patton Boggs had requested two extensions in order to complete Romney's disclosures. Both extensions were granted by the FEC and the documents were received by the agency on Friday at 4:24 p.m.
The documents show that many of Romney's individual stocks have been sold by Thornburg Investment Management and Goldman Sachs over the past year.
The candidate's stakes in British Sky Broadcasting, Canon (CAJ), Coca Cola (KO, Fortune 500), Infosys (INFY), SABMiller, Honeywell (HON, Fortune 500), Apple (AAPL, Fortune 500), JPMorgan Chase (JPM, Fortune 500), McDonald's (MCD, Fortune 500) and Wal-Mart de Mexico have all been sold.
Romney's personal wealth has been the source of intense scrutiny on the campaign trail, as the former Massachusetts governor's opponents have sought to portray him as out of touch.
The Romney campaign has, in the past, said a "more accurate" estimate of his wealth is between $190 million and $250 million.
Romney himself offered another estimate: "It's between $150 and about $200-and-some-odd million dollars, I think that's what the estimates are," he told Univision during an interview in January.
Of course, due to the size of Romney's portfolio, and the nature of his investments, his net worth is likely to change on a daily basis.
How come so much money? Romney doesn't pull down a paycheck every two weeks. Instead, most of his current income is derived from investments.
He made $42.7 million over the past two years, and took in $21.7 million in long-term capital gains over that time period, according to his tax returns. Of that, $12.9 million was in so-called carried interest.
Most of Romney's assets are in a blind trust, a money-management technique commonly used by politicians who would like to avoid conflicts of interest.
Of course, Romney's trust is not really blind these days. The trust's assets were listed in his FEC disclosure, and the trustee has even participated in conference calls with reporters.
Romney also earns a tidy income in the form of dividends and interest from his investments, and records show that he commands between $10,000 and $68,000 on the speaking circuit.
The documents released Friday show Romney was paid $68,000 by the International Franchise Association for a February speaking engagement, and earned another $68,000 from GoldenTree Asset Management. He was paid $42,500 by Barclay's Bank for a January speech.
Romney has degrees from both Harvard Law and Harvard Business School, and had successful careers at the consulting shop Bain & Company and private equity firm Bain Capital before joining the Salt Lake City Olympics effort in 1999.