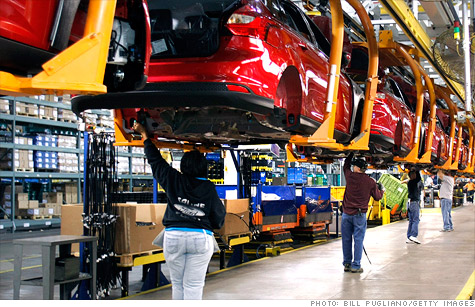 An ISM report released on Friday showed that manufacturing growth slowed in May.
NEW YORK (CNNMoney) -- The rate of manufacturing growth slowed in May, according to a purchasing manager's report out on the same day that the government released disappointing jobs numbers.
The Institute of Supply Management reported its monthly index fell to 53.5 in May, from a 54.8 reading in April. Any reading above 50 indicates growth in the sector.
Although manufacturing growth slowed, May marked the 34th month in a row that activity expanded.
The index came in just below the expectations of economists surveyed by Briefing.com, who forecast the index would fall to 54.
The overall decline was driven by a dip in production, which fell by 5.4 points in May. The employment reading also came in lower, slipping by 0.4 point.
"It was a little bit of a disappointment to see a slowdown in growth, but it's growth nonetheless," said Sarah Watt, an economic analyst at Wells Fargo."There's a lot of uncertainty in the air with the debt crisis in Europe and policy here in the U.S. that's making companies reticent to invest."
Slow growth in manufacturing was reflected in another report, the government's May jobs data. The Labor Department reported that 12,000 manufacturing jobs were added in May, which was up from 9,000 in April, but below the 42,000 jobs added in the sector in April.
Some respondents to ISM's survey said that while growth has pulled back, their businesses are still on track for gains.
"While not quite as busy as last month, production is steady and year over year still much better," a representative of a transportation equipment factory said.
"Business has been trending moderately higher since the beginning of the year," a manufacturer of chemical products reported. "[We] anticipate 5% to 7% growth for the year."
The 1.9 point increase in new orders, what Watt calls "one of the more forward-looking indicators," gives manufacturers and analysts reason to believe growth will pick up.
"It shows there is still some demand out there for products," Watt said. "Next month, we're hoping that production will increase or at least hold on."