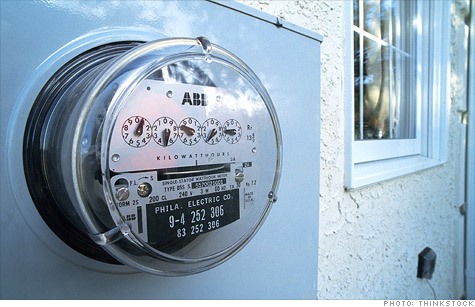 Electric bills seen rising significantly to pay for cleaner coal plants. Utility executives bullish on solar, electric cars.
NEW YORK (CNNMoney) -- Higher electric bills. Emphasis on solar power. A surge in electric cars.
Those are some of the things about 500 utility executives see in the future of their industry, according to a poll conducted by consulting and construction firm Black & Veatch.
Rising utility bills: Over 90% of the executives surveyed believe that rules requiring the use of more renewable energy and a cut in pollution from coal-fired power plants will lead to higher monthly utility bills for consumers.
Over half said these bills will rise significantly.
No definition of "slightly" or "significantly" was provided in the study. But Black & Veatch said "slightly" in industry parlance usually means a 1% to 3% increase, while significantly could mean up to 10% or so.
The average American household spends $111 a month on electric bills, according to the U.S. Energy Information Administration.
Environmental and public health advocates fought hard for the new rules. The Environmental Protection Agency says they will save up to 11,000 lives a year by preventing ailments such as asthma, heart disease and cancer.
Fracking rules not that costly: Seventy percent of executives think new federal regulations requiring companies to limit air pollution from shale gas wells, as well as any additional rules, will "slightly" raise natural gas prices.
Twenty-three percent said the new rules will significantly raise prices.
Solar power more attractive than wind: Executives named solar power as the fourth-most attractive way of generating electricity that's environmentally friendly -- behind hydro, natural gas and nuclear.
Wind power, which placed third just two years ago, was bumped down to sixth place. Why the drop?
"There's already lots of wind installed," said Mark Gabriel, an executive in Black & Veatch's management consulting division, adding that many of the windiest spots near big cities already have turbines.
There's also uncertainty about whether wind's tax incentives will be renewed when they expire at the end of 2012 -- only about half the utility executives polled think they will be. Solar's tax credit extends to 2016.
Bullish on electric cars: Utility executives believe electric cars will eat up 7% of the nation's power supply by 2025.
To use that much juice, Black & Veatch estimates there would need to be 65 million electric cars on the road. Last year under 20,000 were sold.