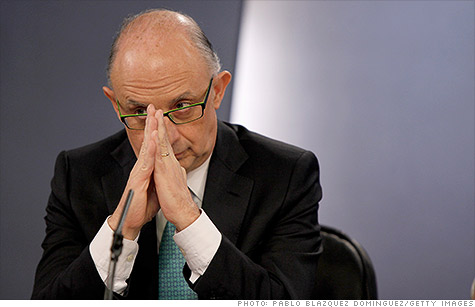 Spanish Treasury Minister Cristobal Montoro, shown here during a budget presentation in March, said the credit market is seizing up for Spain.
NEW YORK (CNNMoney) -- Spain's Treasury minister appealed to European leaders for financial support Tuesday, saying the country's credit markets are seizing up.
The yield on Spain's 10-year bond has been flirting dangerously close to the 7% mark that smacks of default anxiety. Over the past week, the 10-year yield has been at its highest level since November.
Treasury Minister Cristobal Montoro told Spanish radio station Onda Cero that it is "technically impossible" for Spain to bail itself out. He said that Spain needs to get more money to improve its debt situation to open the bond markets back up so people can invest in the country.
"The risk premium says Spain doesn't have the market door open," said Montoro. "The risk premium says that as a state we have a problem in accessing markets, when we need to refinance our debt."
Economists estimate that the Spanish government has about €800 billion in outstanding debt.
Meanwhile, the European Stability Mechanism, a bailout fund that comes into effect this summer, will be equipped with only €500 billion.
Montoro said that Spain wants "to continue being part of the [eurozone] and must bet on the European institutions" to financially support the fiscally troubled Iberian nation.
The extent of Spain's fiscal troubles were unveiled in May, when the government announced a €19 billion rescue of Bankia, one of Spain's top lenders.
Last week, credit rating agency Egan Jones cut Spain's credit rating to B from BB-, and Bank of Spain Governor Miguel Angel Fernandez Ordonez said he was resigning from his post a month early.
Montoro said that Spanish banking crisis doesn't just involve his own country; it's a European problem.
"What's at stake is the euro and they must convince themselves and the markets that the euro is a reality and it does have a future," he said.
The minister's appeal comes as leaders from the Group of Seven nations met to discuss Europe's debt crisis. The G7 ministers and leaders agreed to keep close tabs on the situation ahead of the larger G20 meeting later this month, according to a U.S. Treasury statement.
The G7 comments may be helping prop up Spanish banking stocks, which have taken a pretty harsh beating this year. Shares of Banco Santander (STD) and BBVA (BBVA) both rose about 1.5% Tuesday. And the yield on Spain's 10-year bond eased to 6.3%.
Spain's bond market will be tested Thursday, when the government is due to auction up to €2 billion worth of 2-year, 4-year and 10-year bonds.
-- CNNMoney's Ben Rooney contributed to this report