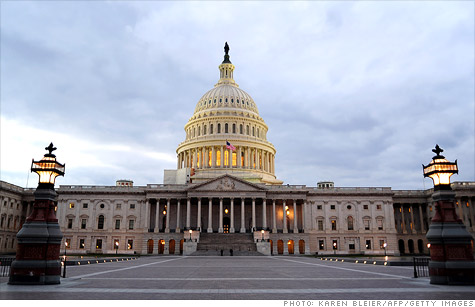 Lawmakers will face hard choices about the federal budget and their decisions will have a strong impact on the country's fiscal future, as a new CBO report demonstrates.
NEW YORK (CNNMoney) -- The Congressional Budget Office on Tuesday painted a stark picture of the country's fiscal future, which will be determined in part by tough choices lawmakers face in the coming months on the federal budget.
The CBO, the nonpartisan official beancounter in Washington, painted two scenarios for Congress.
The first assumes laws currently in place rule the day. That means lawmakers do nothing to lessen the effects of the so-called fiscal cliff and allow $7 trillion in tax hikes and spending cuts start to take effect in January.
Under that scenario over the long run, debt falls to 53% of the size of the economy by 2037 from more than 70% today. Tax revenue would rise to 24% of GDP in 25 years and keep growing. That would be well above the 18.3% historical average.
Simultaneously, spending in vast portions of the federal budget would shrink dramatically. Other than Medicare, Medicaid, Social Security and interest, spending would fall to the lowest percentage of GDP since before World War II.
But entitlement spending would continue to increase because of the aging population and the rising cost of health care.
Specifically, spending on the major health care programs would nearly double to 10% of GDP in 2037 from more than 5% today. Social Security spending would rise much less sharply to more than 6% in 2030 from 5% today.
By 2037, entitlement programs would account for 16% of GDP -- nearly as high as the historical average for all federal spending minus interest costs.
Then there's the second scenario analyzed by CBO -- the one many consider to be a more realistic outlook.
In that scenario, Congress largely leaves many of today's policies in place. Among them: The Bush tax cuts. Protection for the middle class against the Alternative Minimum Tax. A rollback of scheduled payment cuts for Medicare doctors.
The agency also assumes lawmakers cancel the nearly $1 trillion in spending cuts set to take effect next year.
So what happens?
First, spending on health care entitlements would be slightly higher, accounting for 10.4% of GDP.
Debt would be pushed to more than 90% of GDP by 2022, cross its historical high of 109% by 2026 and continue rising to nearly 200% by 2037. And that doesn't account for any negative effects that such high debt might have on the economy.
Despite growing demand for entitlements, revenues would level off at 18.5% of GDP, a little above the historical average. And spending on everything except the entitlement programs and interest would also hew to its historical average.
CBO made a point of noting in its report that today's high levels of debt are not solely due to the recent surge in spending and drop in revenues that resulted from the 2008 financial crisis and economic downturn.
"The growing debt also reflects an imbalance between spending and revenues that predated the recession," the agency said.
And under the current policy scenario that imbalance would be exacerbated.
In a separate report last month, the CBO estimated that allowing fiscal cliff policies to take effect all at once would likely cause a recession in 2013.