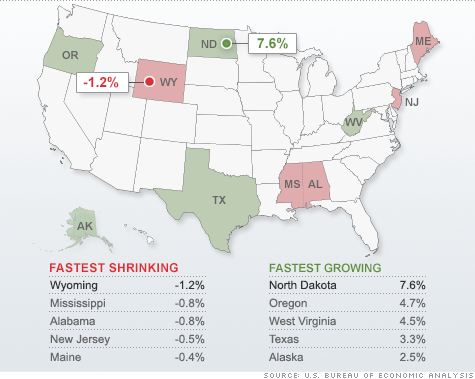 Click on the map to see how all 50 states fared in 2011.
NEW YORK (CNNMoney) -- States' economic growth slowed sharply in 2011, coming in at half of the previous year's rate.
Real gross domestic product by state grew 1.5% last year, after increasing 3.1% in 2010, according to a U.S. Bureau of Economic Analysis report released Tuesday. It mirrored the slowdown in the national economy.
Most states did see their economies expand last year, with gross domestic product rising in 43 states and the District of Columbia. The year before, all but two states saw growth.
But in 2011, six states contracted. They included Wyoming, Mississippi, Alabama, New Jersey, Maine and Hawaii.
North Dakota led its peers with an economic expansion of 7.6%. The state benefited from a boom in oil drilling, with new technology making it possible to tap oil in the Bakken area.
Nearby Wyoming came in as the state with the worst economic performance, shrinking by 1.2% in 2011. Its mining sector, shaved 1.69 percentage points off of growth.
Manufacturing, information and professional services were the leading contributors to growth across the nation. Dragging down the economies were utilities and real estate rental and leasing, mainly because of weakness in the commercial space and declines in broker commissions.
The states with the strongest economic growth benefited from oil and gas drilling (North Dakota, West Virginia, Texas and Alaska) and from the rebound in manufacturing (Michigan, California, Oregon).
Several southern states, including Georgia, North Carolina and Tennessee, bounced back from their depressed levels thanks to either stabilization in the housing market or manufacturing gains, said Mark Vitner, senior economist at Wells Fargo.
Though economic growth slowed overall, some state economies, like California and Nevada, grew faster than the year before.
"The improvement in the economy was more broadly based than at any other time since the recession," Vitner said.
By region, the Southwest performed the best, while the Southeast and Mideast regions showed the weakest growth in the nation.
The Plains states also showed surprisingly anemic growth, mainly because agriculture prices have remained steady after several years of increases, said Steven Cochrane, economist with Moody's Analytics.