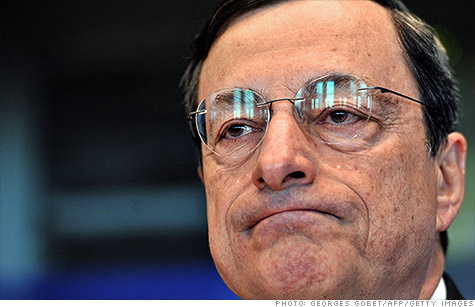 ECB president Mario Draghi is under pressure to help keep the euro currency union from breaking apart.
NEW YORK (CNNMoney) -- European Central Bank officials voted Wednesday to hold interest rates steady, even as the debt crisis in the euro area intensifies.
The ECB dashed hopes for a rate cut by leaving its main interest rate unchanged at 1%, but the decision wasn't unanimous.
"A few members would have preferred to have a rate cut today," said ECB president Mario Draghi following a meeting of the bank's Governing Council.
Many analysts expect the ECB to cut interest rates by 0.25% at its next meeting in July, bringing them down to a record low.
Draghi said the central bank will continue to monitor developments closely and stands ready to act if necessary.
The ECB is under pressure to take additional steps to support the economy and restore confidence in financial markets. But ECB president Mario Draghi stressed that monetary policy cannot make up for a lack of action by euro area political leaders.
"There are some problems in the euro area that have nothing to do with monetary policy," Draghi said after the council's monthly policy meeting. "I don't think it would be right for monetary policy to fill other institution's lack of action."
Draghi reiterated that European leaders need to clarify their vision for the future of the euro currency, saying that "by itself will contribute to stabilizing the financial system in Europe."
The ECB meeting took place as Spain continues to struggle to recapitalize its banks and Greece prepares to hold a pivotal election that could determine if it remains in the eurozone. The uncertain outlook has driven the euro down to a two-year low versus the U.S. dollar.
"The ECB is clearly looking to keep as much pressure as it can on politicians to take strong measures to combat the crises in Greece and Spain," said Howard Archer, chief European economist at IHS Global Insight.
Draghi addressed growing concerns that the euro crisis is beginning to impact the global economy. While he conceded that Europe does have some responsibility, Draghi said the crisis is not to blame for all of the world's economic problems.
"I don't think we should carry this reasoning too far," he said, adding that countries such as the United States have their own issues with debt.
Draghi said any decision to allow the European Financial Stability Facility lend directly to banks should be made by euro area political leaders.
He acknowledged that the move would allow banks to be recapitalized without driving up government debt. But he added that the bailout fund is currently unable to lend directly to banks and that it is not designed to be a shareholder in private financial institutions.
The ECB did extend some liquidity measures for European banks, but it stopped short of announcing a third long-term refinancing operation (LTRO).
Draghi said ECB officials are still assessing the impact of the two LTROs the bank held previously, which funneled more than €1 trillion into the banking system.
Meanwhile, Draghi appeared to leave the door open for future purchases of euro area government bonds under the bank's securities market program.
However, he said the so-called "non-standard" monetary policy steps are "temporary and not infinite."
The ECB also issued its latest economic projections. The bank expects inflation to remain above 2% for the rest of 2012. It sees economic activity ranging between a decline of 0.5% and an increase of 0.3% for the year.
Separately, the European Union announced a plan for a continent-wide banking union that would deal with future banking crises rather than leave them in the hands of already struggling national governments. But the proposals have yet to be officially endorsed and the measures will take years to implement.