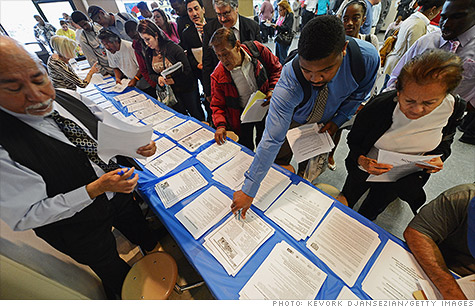 Job seekers pick up open-job fliers from a recruitment specialist in Los Angeles.
NEW YORK (CNNMoney) -- The job market remains on ice -- for now.
Americans filing for first-time unemployment benefits fell to 377,000, the Labor Department said Thursday. That's an improvement from 389,000 claims filed the week before, but still slightly higher than expected. But last week's number was revised higher from an original reading of 383,000 claims.
Economists are watching closely for some positive signs in the labor market, after last week's terrible May jobs report showed that job growth is slowing sharply.
Considering the extreme volatility of the initial claims number, economists often pay more attention to the weekly moving average which shows a more general trend. That number ticked higher, rising 1,750 to 377,750.
Meanwhile, millions of people remain on unemployment benefits and job growth is too weak to bring down the jobless rate.
Nearly 3.3 million people filed for their second week of unemployment benefits or more in the week ended May 26, the most recent data available.