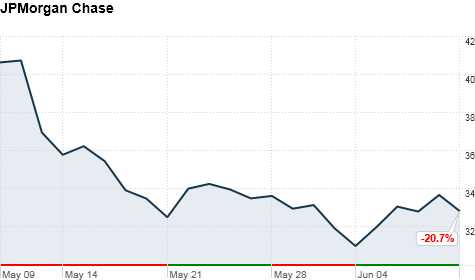 JPMorgan's shares are down about 20% since the bank announced a $2 billion loss from derivatives trades on May 10.
NEW YORK (CNNMoney) -- The stock market hasn't been kind to JPMorgan Chase lately.
The recent market gyrations have exacerbated the bank's $2 billion loss from its bad bet on a thinly traded slice of the derivatives market.
JPMorgan's (JPM, Fortune 500) trades were built around contracts tied to corporate bonds. Specifically, the bank sold huge amounts of protection on an index of 125 highly rated corporate bonds, known as the 10-year CDX Investment Grade Index Series 9, or IG 9.
As the overall market has worsened, it has cost even more for JPMorgan to sell protection against possible bankruptcies on corporate bonds.
Over the past two weeks, the cost of providing that protection has jumped by about $1 billion for every $100 billion of protection, which could put JPMorgan's losses as high as $8 billion. Just a few weeks ago, sources were telling CNNMoney that the losses could be in the $6 billion to $7 billion range.
It's unclear if JPMorgan has other hedges in place that are large enough to offset those growing losses.
Investors are hoping to get more insight from JPMorgan CEO Jamie Dimon, who is testifying before the Senate Finance Committee Wednesday morning.
Dimon recently said he wouldn't provide a running tally to the public so it's unlikely that anyone will know the extent of JPMorgan's losses before the bank reports second-quarter results in mid-July.
What's more likely to be revealed during Dimon's testimony is what he and other top executives knew about the risks JPMorgan's chief investment office was taking.
"The real issue here is lack of oversight, reasonable standards and risk control for which Dimon is answerable. It's not about these particular trades," said Janet Tavakoli, president of Tavakoli Structured Finance.
Since Dimon first announced the losing trades on May 10, JPMorgan has lost roughly $30 billion of its market value. Shares of JPMorgan have dropped nearly 20% during that same time period.
One piece of good news for the bank: hedge funds and other banks have slowed down their opposing bets. Immediately after JPMorgan disclosed its bet on May 10, hedge funds and other investors bet heavily against the bank but that action has cooled off and several traders and fund managers said investors are in a wait and see mode.
"The news about JPMorgan is old news right now. Investors have moved on," said Garth Friesen, a co-chief investment officer at III Offshore Advisors, a derivatives hedge fund that's not involved in these trades.
But several market watchers warn if JPMorgan comes under pressure to unwind its trade, hedge funds may change their tune and pounce on the index, driving up those costs and the bank's related losses once again.
"The thing about derivatives is if you take a huge position, size becomes the problem," said Tavakoli. "If people know you need to liquidate, it hurts you."
The Securities and Exchange Commission, the Commodity Futures Trading Commission, and the Federal Bureau of Investigation have been looking into JPMorgan's trade.
JPMorgan declined to comment for this story.
Dimon will return to Capitol Hill next week to field questions from members of the House of Representatives.