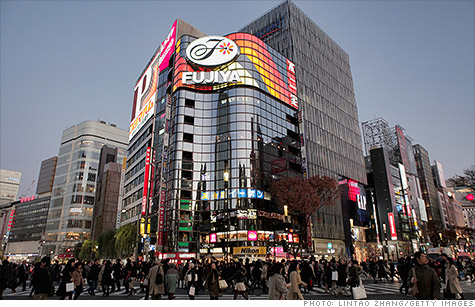 Tokyo has become the most expensive city in the world, according to a study done to estimate costs for foreign business people living abroad.
NEW YORK (CNNMoney) -- With blue jeans costing almost $150 and movie tickets going for $22, Tokyo has grabbed the dubious title of the world's most expensive city in a report by business consultant Mercer.
The Japanese capital edged out Luanda, Angola, which was No. 1 last year on the survey, which estimates the cost of living for expatriates. This allows multinational firms to determine an allowance for employees it places in cities around the world.
Two cities in Pakistan were at the bottom of the list of 214 cities worldwide, with Karachi ranking as the cheapest city, and Islamabad just behind it.
Factors such as economic and political upheavals cause the rankings to change annually, as do currency fluctuations, inflation and volatility in housing prices.
The strength of the Japanese yen, which makes items in Japan more expensive when paying with other currencies, lifted Tokyo into the top spot. Osaka, Japan, also saw a bump -- up to No. 3, from No. 6 a year ago. Many European cities moved lower in the ranking, due to the euro's declining value because of the ongoing European debt crisis.
The report looked at prices of everything from a luxury two-bedroom apartment to that of a fast-food hamburger or a copy of an international newspaper.
A two-bedroom apartment costs $4,847.69 a month in Tokyo, according to the study, which was a relative bargain compared to some of the other cities on the list. Hong Kong rents were the highest, at $7,092.48, and Luanda's were second, at $6,500.
But the cost of more than 200 everyday necessities for expats is what lifted the Japanese cities to the top of the rankings, despite the relative "bargains" on rent.
New York, which ranked 33rd worldwide, is the most expensive city in the United States, followed by Los Angeles at 68, and San Francisco at 90. Winston-Salem, N.C. is the United States' least expensive city on the list, with a ranking of 195.