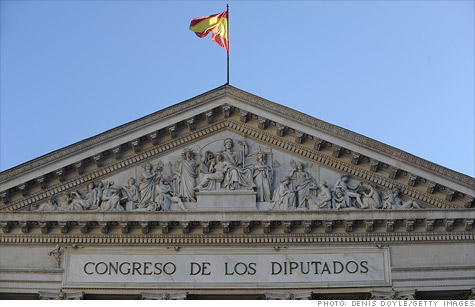 The national flag flies over the Spanish parliament on Wednesday.
NEW YORK (CNNMoney) -- Rating agency Moody's downgraded Spain by three notches on Wednesday, expressing concern about the government's debt load and its access to financial markets.
The country has also been placed on review for a possible further downgrade, Moody's said. Spain now sits just one notch above speculative grade on the Moody's scale.
The announcement comes with Spain seeking up to €100 billion from the European Union to to recapitalize its ailing banks. This borrowing, Moody's said, will further increase the country's debt burden, which has "risen dramatically since the onset of the financial crisis."
In addition, Moody's cited concern about Spain's bleak economic prospects and its access to credit in private markets. The yield on 10-year Spanish bonds topped 7% early Thursday, the highest level since the euro was introduced in 1999.
The 7% level is closely watched as the first sign that a country could need a bailout. Borrowing costs for Portugal, Ireland and Greece were higher before those countries needed to be bailed out but worries began when the 7% mark was breached.
Of course, Italy breached that level back in November and has since backed off but jitters over both Spain and Italy's economic future remain front and center.
Also Wednesday, rating agency Egan-Jones cut its rating on Spain from B to CCC+. The country has been hit with a flurry of downgrades amid the escalating crisis in Europe in recent months.
Earlier this week, Fitch downgraded the credit rating of 18 Spanish banks, citing the weak economy and the banks' exposure to bad real estate loans. That came one day after the agency cut its rating on the nation's two largest banks, Santander (STD) and BBVA (BBVA). And last week, Fitch cut its rating on Spanish government debt to one step above junk status.