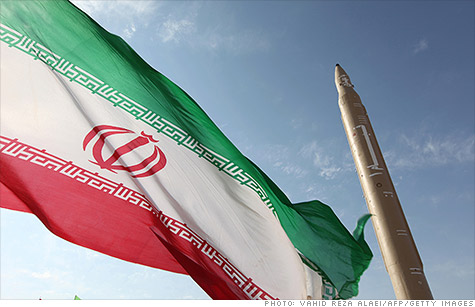 Talks over Iran's nuclear program are not expected to stop oil sanctions that could shut in a million barrels a day. But the impact on prices should be minimal.
NEW YORK (CNNMoney) -- The latest round of talks over Iran's nuclear program are set to begin Monday in Moscow, but analysts are not expecting a breakthrough that would avoid sanctions in coming weeks.
The sanctions, from the United States and European Union, would apply to any country that buys Iranian oil, and could cut off nearly half of Iran's oil exports, removing a million barrels a day from global oil markets.
Until recently, there was concern that the sanctions could send oil prices soaring. But prices have been sinking because of expectations of declining demand from global economic weakness.
For now, that weak demand is affecting oil prices much more than less supply.
"I don't expect a big spike on an Iranian oil disruption," said Trevor Houser, an analyst at the Rhodium Group.
Since the sanctions were announced late last year, much of the supply loss has already occurred.
India has gone from importing about 500,000 barrels a day from Iran to about 250,000, according to Rhodium Group estimates.
That was enough to win the country an exemption from the U.S. sanctions, which aim to reduce the amount of oil countries buy from Iran, not eliminate it.
Europe, which will ban all Iran oil imports starting in July, has reduced its purchases by a similar amount.
Even China, the only major buyer of Iranian oil to not yet win an exemption from U.S. sanctions, has cut its imports from nearly 600,000 barrels a day to roughly 400,000 barrels -- although the drop is attributed to a spat over prices with Tehran, not pressure from the United States.
The oil lost from Iran is being made up for by additional crude from Saudi Arabia, Libya and elsewhere.
Plus, world oil supplies are building as less oil is being consumed than was expected.
In its latest oil market report, the International Energy Agency said global stockpiles of crude have begun to rise. Oil production actually outpaced consumption by a million barrels a day in May, the agency said.
That all means the sanctions on Iran can move forward without the risk of an oil shortage.
"This is the best of all worlds" said Frank Verrastro, director of the Energy and National Security program at the Center for Strategic and International Studies.
As for the impact on Iran, "They are getting doubly hit" by fewer exports and lower prices, said Verrastro.
Whether the hit is enough to get Iran to to bend to the West's wishes over its nuclear program is another matter.
At the Moscow meeting, Britain, Germany, France and the United States will be pushing Iran to stop enriching uranium to a level that makes it easy to produce a bomb. It's unclear what position the other two participants -- China and Russia -- will take.
Iran maintains it has no intentions of making a weapon.
Most analysts think the negotiations will continue into the fall and that the sanctions will begin as scheduled.
As long as oil prices continue to take their direction from events in Europe, the standoff with Iran should have little bearing on crude markets.
But events can change quickly. A fix in Europe and an economic recovery could once again thrust Iran into the spotlight when it comes to pricing oil.
In fact, some smart minds are expecting just that.
"We continue to expect policymakers will be able to contain the European debt crisis," analysts at Goldman Sachs wrote in a research note June 11. "Further, as tensions between Iran and the West escalate, the risk to crude oil prices is becoming increasingly skewed to the upside."