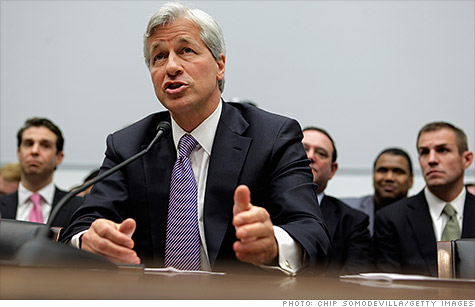 JPMorgan's CEO Jamie Dimon testified on Capitol Hill for a second time Tuesday to discuss the bank's multi-billion trading loss.
NEW YORK (CNNMoney) -- JPMorgan Chief Executive Jamie Dimon was quick to fight back Tuesday after five top banking regulators pointed fingers at the bank and its top executives for JPMorgan's multi-billion trading loss.
Dimon refused to defend the specific trade leading to the outsize losses, just as he had during last week's testimony before the Senate Banking Committee.
He also repeatedly defended JPMorgan's size when pushed by members of Congress.
"We are not too big to fail," said Dimon. He later added: "There are huge benefits to size. We were ports in the storm because of our size."
JPMorgan's trading loss was caused by "serious risk management weakness or failures" at the bank, Thomas Curry, the comptroller of the Office of the Comptroller of the Currency, told members of Congress during testimony before the House Committee on Financial Services.
SEC chairman Mary Schapiro, CFTC chairman Gary Gensler, FDIC acting chairman Martin Gruenberg and Federal Reserve general counsel Scott Alvarez also placed the blame largely on JPMorgan (JPM, Fortune 500), while noting that they have been closely monitoring the bank now.
During more than two hours of often harsh questioning, Dimon was largely able to broaden the conversation to points that showcased the bank's "fortress balance sheet."
While defending the bank's size, he held himself up as an enemy combatant of the "too big to fail" era. "Banks should be bankruptable," he said. But he emphasized that they should do it in a way that doesn't harm the economy or taxpayers.
Dimon also said it was "impossible" to ensure against losses. "It's not possible to ensure we'll never make a mistake," he said. "Hopefully they're small and not life threatening and this was not life threatening."
OCC's Curry agreed. JPMorgan's trading and its related losses do not present a risk to the entire financial system, Curry said during his testimony. He also added that the OCC has no other large bank has taken the same outsize risks as JPMorgan recently.
When asked whether his compensation should be clawed back, Dimon said, "My compensation is 100% up to my board [and] they will do what they think is appropriate."
In his Senate testimony last week, Dimon said it was likely that top executives involved in the trading losses would see pay clawed back by the bank.
In a fiercely partisan discussion, political infighting among members of Congress broke out throughout the session, illustrating the sharp divides on how financial institutions should be regulated.
"Welcome to the serenity of the House Financial Services Committee," Rep. Spencer Bachus joked as the opening remarks wound down.
There was no consensus among lawmakers or regulators on whether the Volcker Rule would have prevented such a loss. The Volcker Rule prohibits banks from proprietary trading or making large trading bets with deposits.
When asked about the Volcker Rule, Dimon reframed the idea of risk and proprietary trading. "Every loan is proprietary. The riskiest thing we do is loans."
The testimony and question-and-answer session raises questions about just how many regulators it takes to spot a London Whale.
Sixty-nine on-site regulators didn't get the job done. The OCC had 65 employees at JPMorgan's headquarters monitoring its risk-taking, according to Curry's testimony. The FDIC had four, according to Gruenberg.
Regulators may have missed the trades that led to a loss of at least $2 billion but they're not resting now and are, in fact, holding daily meetings with the bank. "The recent losses attest to the speed with which risks can materialize in a large, complex derivatives portfolio," Gruenberg testified.
Dimon did not reveal any further information on the current size of the trading losses but a spokesperson for the bank told CNN that risk has been reduced.
JPMorgan will make more detailed disclosures on the size of the trading loss on July 13m when the bank releases its second-quarter earnings.
CNN's Lizzie O'Leary contributed to this report.