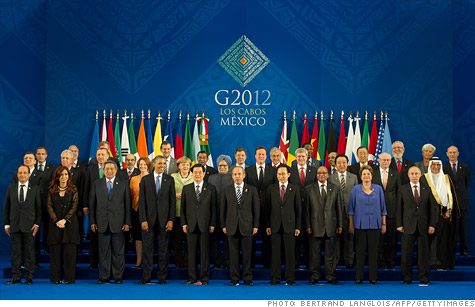 Group of 20 leaders met in Mexico as the global economy sputters and Europe struggles to stabilize its common currency.
NEW YORK (CNNMoney) -- Global leaders promised Tuesday to support economic growth and create jobs as the financial turmoil in Europe continues to undermine confidence around the world.
The Group of 20 leaders from the world's developed and emerging economies met in Mexico for two days of talks on the global economy and other international affairs.
"We will act together to strengthen recovery and address financial market tensions," the G-20 leaders said in a joint statement.
The gathering in the resort town of Los Cabos took place as Europe's financial crisis intensifies, with continued instability in Greece and growing concerns about Spain and Italy.
European members of the G-20 pledged to "take all necessary policy measures to safeguard the integrity and stability" of the euro currency union, according to the statement.
The uncertain outlook for the euro is the greatest threat facing the global economy, which is also struggling with high oil prices and slowing growth in China.
At a press conference Tuesday evening, U.S. President Barack Obama encouraged European leaders to clarify their long-term vision for the euro currency, while also calling on them to address short-term concerns about government finances.
"There's no doubt that all countries recognize the need for growth strategies inside of Europe that are consistent with fiscal consolidation plans," he said, adding that the same holds true for the United States and many other developed nations.
U.S. Treasury Secretary Timothy Geithner said G-20 officials were encouraged by reforms EU leaders are planning to discuss at a key summit next week. In particular, he pointed to the formation of a so-called banking union and broader plans to centralize euro-area budgets.
In Europe, Spain and Italy have come under pressure as investors worry about the sustainability of public debt in those countries. If the third and fourth largest euro-area economies need a bail-out, the euro area could sever.
Meanwhile, Greece is struggling to form a government following elections over the weekend.
Earlier Tuesday, European Council president Herman Van Rompuy said he will propose a series of "building blocks" to deepen economic integration in the eurozone at next week's EU summit.
The plans "will show to the rest of the world and to the markets that the euro and the eurozone is an irreversible project," said Van Rompuy. "A common currency needs also common policies."
In addition to the banking union, EU officials are considering plans to increase infrastructure investment by boosting the European Investment Bank.
EU leaders are also reportedly considering a plan championed by Italy and France to ease borrowing costs for troubled euro-area governments by using bailout funds to buy sovereign debt. But there were conflicting reports on whether the Germans would back such a plan.
While the G-20 statement did not mention any specific actions, it did say that euro area leaders will take steps to "improve the functioning of financial markets."
Euro area governments will also attempt to "break the feedback loop between sovereigns and banks," according to the statement.
In Spain, for example, the government is struggling to recapitalize insolvent banks, which have been the biggest buyers of Spanish government bonds this year.
The G-20 leaders reiterated their commitment to sustainable economic growth and reducing unemployment. They also pledged to foster international trade and avoid protectionist policies.
The leaders stressed that individual economies will require different strategies, but they agreed that governments without excessive debts should stimulate activity.
"Today the world has an action plan which addresses the most pressing challenges, but also has a long-term view," said Mexican President Felipe Calderon. The plan is designed to "restore confidence and growth in the global economy and marks a path toward financial sustainability," he added.
As expected, the International Monetary Fund announced late Monday that 12 more members had agreed to boost the organization's financial resources.
Developing nations such as Russia, India and Brazil agreed to chip in $10 billion each. China said it would provide $43 billion in additional IMF loans.
The funds are in addition to commitments that IMF members made in April. Overall, the IMF has raised $456 billion, which essentially doubles its lending capacity.
"We have more work to do before global recovery is assured," said IMF director Christine Lagarde. "But I take away from Los Cabos a sense of convergence that will facilitate the comprehensive and coordinated approach to global economic and financial challenges advocated by the IMF."