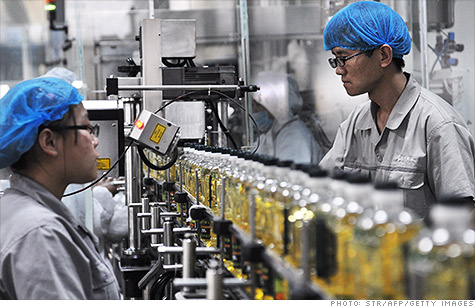 Chinese manufacturing continued to slide in June to a seven-month low, according to a flash report from HSBC.
NEW YORK (CNNMoney) -- China's manufacturing activity continued to drop off in June, with a measure of purchasing managers' sentiment reaching a 7-month low, according to a bank index released Thursday.
The HSBC flash reading of its Chinese manufacturing purchasing managers' index dropped to 48.1 in June from 48.4 in May. Any reading below 50 signals contraction in the manufacturing sector.
HSBC said export orders declined at the fastest rate since March 2009, a sign of weakening global demand with several European nations in recession and the U.S. economy slowing.
"With external headwinds remaining strong, exports are likely to decelerate in the coming months," wrote Hongbin Qu, HSBC's chief economist on China, in the report.
Qu said the manufacturing slowdown will put pressure on the Chinese job market and spur the government to take action. "As such, we expect more decisive policy stimulus to reverse the growth slowdown," he wrote.

China's central bank cut interest rates earlier this month for the first time since 2008.
Economists for Capital Economics said they had expected the index to rise slightly, and believe the drop in PMI increases the likelihood of government intervention.
"Prices seem to be falling fast, opening more space for policy easing," wrote Mark Williams and Qinwei Wang, economists for Capital Economics. "These low readings, reflecting in part the weakness of demand, strengthen the case for policymakers to do more."
The flash reading is issued in advance of a final report, scheduled for release on July 2. The Chinese government is expected to release its official purchasing managers' index on July 1.