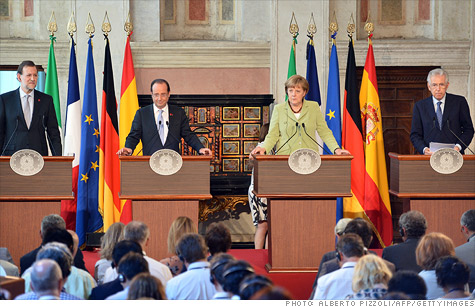 Spanish Prime Minister Mariano Rajoy, French President Francois Hollande, German Chancellor Angela Merkel and Italian Prime Minister Mario Monti hold a joint press conference following their meeting in Rome
NEW YORK (CNNMoney) -- The leaders of the four biggest eurozone economies agreed Friday on a plan to boost economic growth in the troubled currency union.
At a meeting in Rome, the leaders of Germany, France, Italy and Spain discussed their priorities for a key summit of European Union leaders next week.
Without going into detail, the leaders said they agreed on a set of growth-enhancing policies equal to about €125 billion, or 1% of eurozone gross domestic product.
"We are preparing a plan for economic integration on a long-term basis in Europe," said Italian Prime Minister Mario Monti at a press conference following the meeting.
Monti was flanked by German Chancellor Angela Merkel, French president Francois Hollande and Spanish prime minister Mariano Rajoy.
The meeting came ahead of the next European Council, which brings together the leaders of all 27 members of the European Union, on June 28-29.
On Friday, the leaders said they plan to outline their long-term vision for the euro currency and take steps to strengthen the monetary union with deeper economic and financial integration.
In particular, the leaders are expected to announce the formation of a banking union, which could include shared oversight and deposit insurance.
They are also considering an increase in the resources of the European Investment Bank. The goal is to boost growth and create jobs by investing in public works.
At the press conference, the leaders did not say anything specific about a controversial plan to use bailout funds to buy euro area government bonds.
Merkel has resisted the proposal, which is backed by Monti, Hollande and Rajoy.
Germany is generally opposed to the idea of using eurozone funds to subsidize government debt, since doing so could make it easier for policymakers to delay unpopular economic reforms.
However, borrowing costs for large euro area economies, including Italy and Spain, have been rising as investors fear those nations may need to be bailed out.
The leaders did express support for a tax on financial transactions, a move championed by Hollande.
Hollande reiterated that Eurobonds, which would combine the debts of euro area governments, are one of many "useful instruments" under consideration.
Rajoy seemed to support using funds from the European Financial Stability Facility to recapitalize Spanish banks.
Spain will officially request loans from the euro area bailout fund to shore up insolvent banks on Monday. Final terms and conditions of the loans still need be finalized.
By March, Rajoy said the leaders will have in place "all the mechanisms to reach financial stability in Europe."