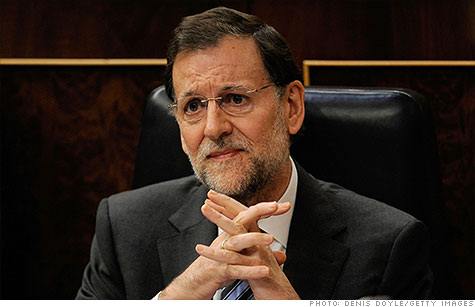 The government of Spanish Prime Minister Mariano Rajoy has asked for help to clean up its banking system.
NEW YORK (CNNMoney) -- The Spanish government made a formal request to the Eurogroup on Monday for loans to bailout its troubled banking sector.
"I have the honor to write to you, in the name of the Spanish government, to formally request financial assistance for the recapitalization of the Spanish banks that require it," wrote Economy Minister Luis de Guindos, in a letter to Eurogroup president Jean-Claude Juncker.
Guindos' letter also expressed appreciation to the Eurogroup -- the 17 nations that use the euro as their common currency -- for offering to support Spain on June 9 with up to €100 billion for its troubled banking sector.
Euro area finance ministers will now begin negotiating the "necessary policy conditionality" of the loans, Juncker said in a statement.
Juncker said a formal response to the request will be made "in due course." The next Eurogroup meeting is scheduled for July 9.
The formal request came aftertwo independent audits, of the Spanish banking sector, which the government had commissioned in May, were released last week.
The reviews by financial consultants Oliver Wyman and Roland Berger are the first step in a two-part audit of the Spanish banking system commissioned by the government in May.
In a worst case scenario, Wyman found that Spanish banks would need between €51 billion and €62 billion in additional capital. Berger estimated the banks would need €51.8 billion.
The auditors used stress tests similar to those conducted by the International Monetary Fund, which said last month that banks need to raise €40 billion.
The Spanish government did not specify the exact amount it would need. The IMF is expected to complete a second audit of Spanish banking needs in September.
U.S.-listed shares of Banco Santander (SAN) and BBVA (BBVA) shed more than 4.5% in premarket trading Monday.
The uncertainty around Spanish banks has raised speculation that Spain will need a bailout similar to those given to Greece, Ireland and Portugal.
Investors are also worried about how Spain's problems will impact Italy. The fear is that bailing out Spain would drain the euro area's crisis resources and leave Italy without a safety net.
The leaders of the four biggest eurozone economies agreed Friday on a plan to boost economic growth in the troubled currency union. Without going into detail, the leaders said they agreed on a set of growth-enhancing policies equal to about €125 billion, or 1% of eurozone gross domestic product.
-- CNNMoney's Aaron Smith and CNN's Madrid bureau chief Al Goodman contributed to this report