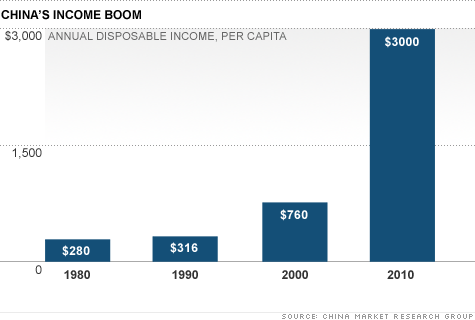 Since 1980, yearly earnings for an average Chinese household multiplied ten times over.
NEW YORK (CNNMoney) -- As China's economy has exploded over the last 30 years, so too have the incomes and living standards of average Chinese people.
The average disposable income of urban Chinese households rose to around $3,000 per capita in 2010, according to an analysis of official government statistics by China Market Research Group. That means a typical family of three earns around $9,000 a year.
While that might not sound like a lot by U.S. standards, it's a boon for Chinese residents, who have seen their yearly earnings multiply tenfold since 1980.
Over the past 10 years alone, incomes have quadrupled. In 2000, the average income was just $760 per person.
Of course, incomes vary greatly from region to region, with most of the wealthier residents residing in the cities. In rural areas, the average disposable income drops to $1,000, but in China's largest cities like Shanghai, Beijing and Shenzhen, it's around $12,000 a year, per person.
While there's no official "middle-class" in China, (Chinese people don't use the concept), a household considered to be middle-class in China would earn somewhere between $10,000 and $60,000 a year, according to Helen Wang, author of The Chinese Dream: The Rise of the World's Largest Middle Class and What It Means to You.
"A rule of thumb is a household with a third of its income for discretionary spending is considered middle class," Wang said.
Being middle-class in China often means earning at or below what's considered the poverty line in America. But considering the much lower cost of Chinese life, living standards there aren't bad at all.
The average city resident can afford to rent a 700-square-foot apartment, spend 35% of their income on food, and still put 20% aside in savings, as is customary in China, estimates James Roy, senior analyst at China Market Research.
Meanwhile, few use credit cards, and most are unlikely to own a car, opting for public transportation instead. The typical cell phone bill is around only $10 a month (or about $20 for an iPhone).
Eating out once or twice a week is not uncommon, sometimes including American fast food chains like KFC or Pizza Hut which have expanded aggressively in China. The average consumer can also afford to be brand-conscious on occasion.
"In most cases the wife, who typically has a full-time job, makes most household purchasing decisions and is willing to trade up to buy foreign brands from companies like Procter & Gamble and Unilever for products like shampoo," Roy said.
For above-average earners, luxury brands are also within reach. China has already overtaken Japan as the second largest luxury goods consumer after the United States, according to analysts at Bain & Company.
Chen Zhi-Heng earns about $36,000 a year working as a doctor in Changsha, a city in south-central China. Even though she earns far above average, she doesn't consider herself well-off enough to be middle class.
With roughly $800 free each month to spend on discretionary items, she owns a $4,700 Gucci watch, a $1,600 Burberry coat and a $320 Hermes silk scarf.
"Buying Louis Vuitton, Apple or other cool stuff is important for many Chinese, showing off that they're modern, sophisticated and have status," said Wang.
Plus, Wang points out that in reality, Chinese incomes are probably much higher than the government reports.
That's partly because households often underreport their income, fearing the government will pass on the information to tax collectors.
The official government figures also don't include rampant under-the-table payments, large cash gifts around Chinese New Year, bribes or land deals. Professor Wang Xiaolu of the China Reform Foundation, in a report for Credit Suisse, estimated in 2008 that the average income was actually 90% higher than the government reported.
"Somehow people always seem to have a lot of cash, even though official data shows income at about $3,000 per capita," said Wang. "There's a lot of grey income in China."