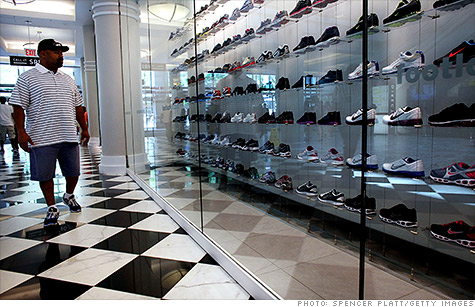 Consumer confidence fell for the 4th straight month, according to the Conference Board index.
NEW YORK (CNNMoney) -- Consumer confidence fell for the fourth consecutive month, hitting the lowest levels since January, according to a survey that measures Americans' optimism regarding the state of the economy released Tuesday.
The Conference Board, a business research firm, said its consumer confidence index dropped to 62 from May's revised index of 64.4. The reading was below the 64 consensus of economists polled by Briefing.com.
The report "suggests there will be little change in the pace of economic activity in the near term," said Lynn Franco, the Conference Board's director of economic indicators, in a statement.
The employment picture, a key indicator of consumer sentiment, remained muddy. The percentage of those surveyed who expect the job situation to improve fell to 14.1% in June from 15.4% the prior month. But the percentage expecting fewer jobs also declined, dropping to 20.6% from 21.5%.
Earlier this month, the government reported a rise in the unemployment rate to 8.2% and the creation of just 69,000 jobs in May.
"The main issue is, of course, high unemployment, and until the jobless rate falls from the current level of 8.2%, the consumer is likely to remain in a very cautious mood, restraining the wider economic recovery," said Chris Williamson, chief economist at Markit, in a statement.
Another mixed message in the survey came in the area of current business conditions. The survey found 35.1% saying business conditions are bad, up from last month's 34.7%. But the percentage of those who said conditions are good also rose, climbing to 14.9% from 13.6% in May.
There was a big jump in the percentage of consumers who said business conditions will worsen in the next six months, rising to 16.2% from 12.9% the prior month. The percentage of survey responders anticipating business conditions will improve eased to 15.5% from May's 16.6%.
When asked about their income, only 14.8% of those polled expected an increase, compared with the 15.7% in May.
The survey is closely watched, as consumer spending accounts for more than two-thirds of the nation's economic activity.